Squash Mousakka
Serves: 4
Ready in: 60 mins +
This hearty and satisfying Greek classic is given a slow-cooker makeover here, with squash providing a refreshing change from the traditional aubergine slices. Recipe extracted from Vegan Slow Cooker: Over 70 delicious recipes for stress-free meals by Saskia Sidey. (£12.99, Hamlyn)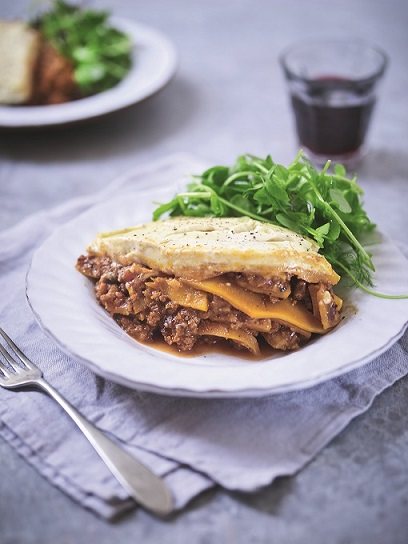 Ingredients:
3 tbsp extra virgin olive oil
1 large butternut squash, peeled, deseeded and very thinly sliced
400g meat-free mince
1 red onion, finely chopped
1 garlic clove, finely chopped
400g tin plum tomatoes
1 tbsp vegan bouillon stock powder
1 tsp dried oregano
½ tsp dried mint
1 tsp ground cinnamon
1 tbsp tomato purée
2 tsp Marmite
salt and pepper
For the bechamel sauce:
2 tbsp vegetable oil
3 tbsp cornflour
400ml soya or unsweetened almond milk
1 bay leaf
½ tsp onion powder
¼ tsp freshly grated nutmeg
2 tbsp nutritional yeast
green salad, to serve
method:
Grease the slow cooker pot with one tablespoon of the oil. Cover the bottom with a thin layer of squash slices, reserving the remainder.
Heat the remaining two tablespoons of oil in a large frying pan over a medium heat, add the meat-free mince and cook until golden-brown. Add the onion and cook for five minutes, until soft and translucent. Stir in the garlic and cook for a further minute. Add the tomatoes and break them up with a wooden spoon. Swill the tomato tin out with water and pour in. Add the stock powder to the tin, fill with boiling water, stir and pour in. Add the dried herbs, cinnamon, tomato purée, Marmite and plenty of seasoning and bring to the boil.
Spread a layer of this mixture over the squash. Repeat with two or three more alternating layers. Cover with the lid and cook on high for one hour.
Meanwhile, heat the vegetable oil in a small saucepan over a medium heat, add the cornflour and whisk for one minute, until you have a smooth paste. Gradually add the dairy-free milk, whisking well after each addition. Add the remaining ingredients, bring to the boil, whisking constantly, and cook for about 10 minutes, until thick and smooth. Remove the bay leaf, season and set aside. If your sauce is lumpy, blitz it in a blender or pass it through a sieve.
Spread the sauce evenly over the top of the moussaka, replace the lid, positioned slightly ajar, and cook, still on high, for another 1–1½ hours, until the squash is easily pierced with a fork and the béchamel looks dry on top. Serve immediately with a simple green salad.
Print Recipe
www.octopusbooks.co.uk/
Did you make this recipe?
Share your creations by tagging @livegreenandgood on Instagram with the hashtag #livegreenandgood