Soba noodles with kale and collards
Serves: 4
Ready in: Under 15 Mins
Cost Cutting Quick Make Vegan Friendly
In this satisfying dish, soba noodles are laced through with lots of greens and flavoured with a piquant dressing. It's a great way to get your loved ones to eat their greens! Recipe extracted from 5-ingredient Vegan by Nava Atlas (£20, Sterling), available online and from all good bookshops.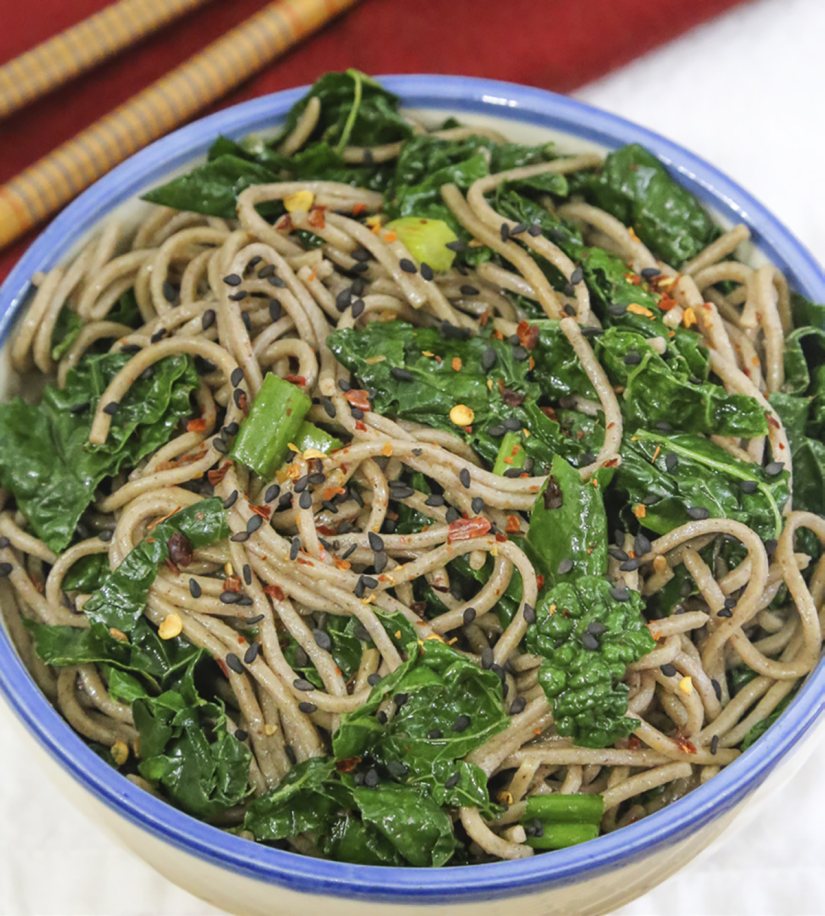 Ingredients:
1x bunch (about 200g) lacinato kale or collard greens
1x package (about 250g) soba (buckwheat) noodles
4 scallions, white and green parts, thinly sliced
110ml bottled sesame-ginger dressing (or as desired)
sriracha or dried hot red pepper flakes, to taste
salt and freshly ground pepper, to taste
Black or white sesame seeds or hemp seeds, for topping (optional)
method:
Cut the leaves of the greens away from their stems and rinse well. Stack eight or so leaf halves on top of one another, then roll them up tightly from the narrow end. Cut into very narrow ribbons, then cut here and there in the other direction to shorten them.
Begin cooking the noodles according to the package directions. When the noodles are nearly tender, plunge the greens and the white parts of the scallions into the water with them. Continue to cook until the noodles are al dente and the greens are bright green and just done. Drain the noodle mixture and transfer to a serving bowl.
Stir in the dressing and green parts of the scallions, then season with sriracha or dried hot red pepper flakes. Add salt (you may not need much, if any) and pepper to taste. Serve warm or at room temperature.
You can also serve this with a platter of sliced baked tofu, tomatoes, and cucumbers. For fun, add vegetable spring rolls from your natural foods store or supermarket's freezer.
Print Recipe
www.sterlingpublishing.com/
Did you make this recipe?
Share your creations by tagging @livegreenandgood on Instagram with the hashtag #livegreenandgood