Rainbow Pickle
Ready in: 60 mins +
Looking for delicious zero-waste recipes? London's first plastic- and emissions-free takeaway delivery service, Dabba Drop, suggests making a rainbow pickle from all the odds and sods in your fridge. It's truly delicious and humble; try it it for lunch with simple steamed rice and soy sauce. It's best to start the process in the evening so you can let the veg sweat in salt overnight and pickle in the morning.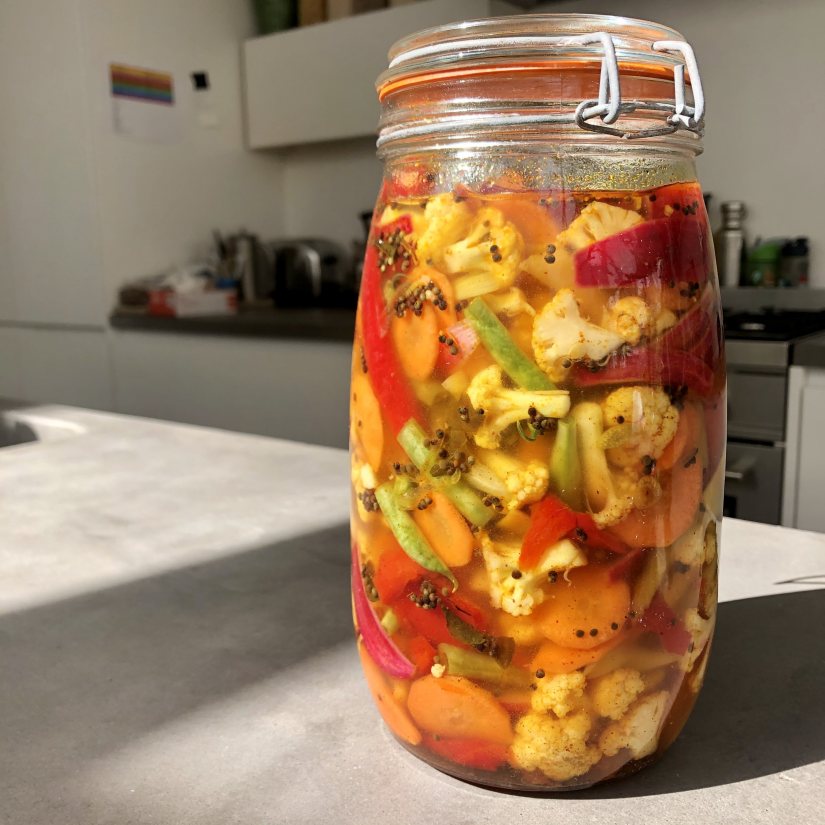 Ingredients:
2 carrots, peeled and sliced
100g green beans, topped and sliced
1 red pepper, sliced
a small head of cauliflower, chopped
3 sticks of celery, sliced
1 red onion, peeled and sliced
You could also use seeded cucumber, radish… the list is endless!
4 tbsp salt
1 tbsp vegetable oil
1 tbsp black mustard seeds
1 tsp turmeric powder
1 tsp chilli powder
4 garlic cloves, sliced
a thumb-sized piece of ginger, sliced
800ml distilled white vinegar
300g sugar
method:
Sprinkle the chopped vegetables with salt, toss to combine, then cover with a plate and press (using a jar of something to weigh the plate down) for eight hours, or overnight.
Rinse the salted veg thoroughly with cold water. Taste to make sure it's not too salty, and rinse more if necessary.
Add oil to a saucepan, then fry the mustard seeds until they have all popped. Add garlic and ginger, and fry for 2-3 mins, before adding the spices. Cook for two minutes, then add the vinegar and sugar, bring to the boil, and set aside to cool. Pour over the veg and refrigerate. This will last for weeks in an airtight container.
Print Recipe
dabbadrop.co.uk/
Did you make this recipe?
Share your creations by tagging @livegreenandgood on Instagram with the hashtag #livegreenandgood