Cornflakes Bombay
Ready in: Under 15 Mins
Cost Cutting Quick Make Vegan Friendly
If you're hankering after a spicy snack, make your own Bombay mix from store cupboard essentials. A good Bombay mix has sweetness and spice, tang and crunch. Here crunchy cornflakes are combined with nuts and raisins, and finished it off with a squeeze of zingy lime. It's perfect with a glass of cold beer. Or if you are feeling adventurous, have it for breakfast with a good chai.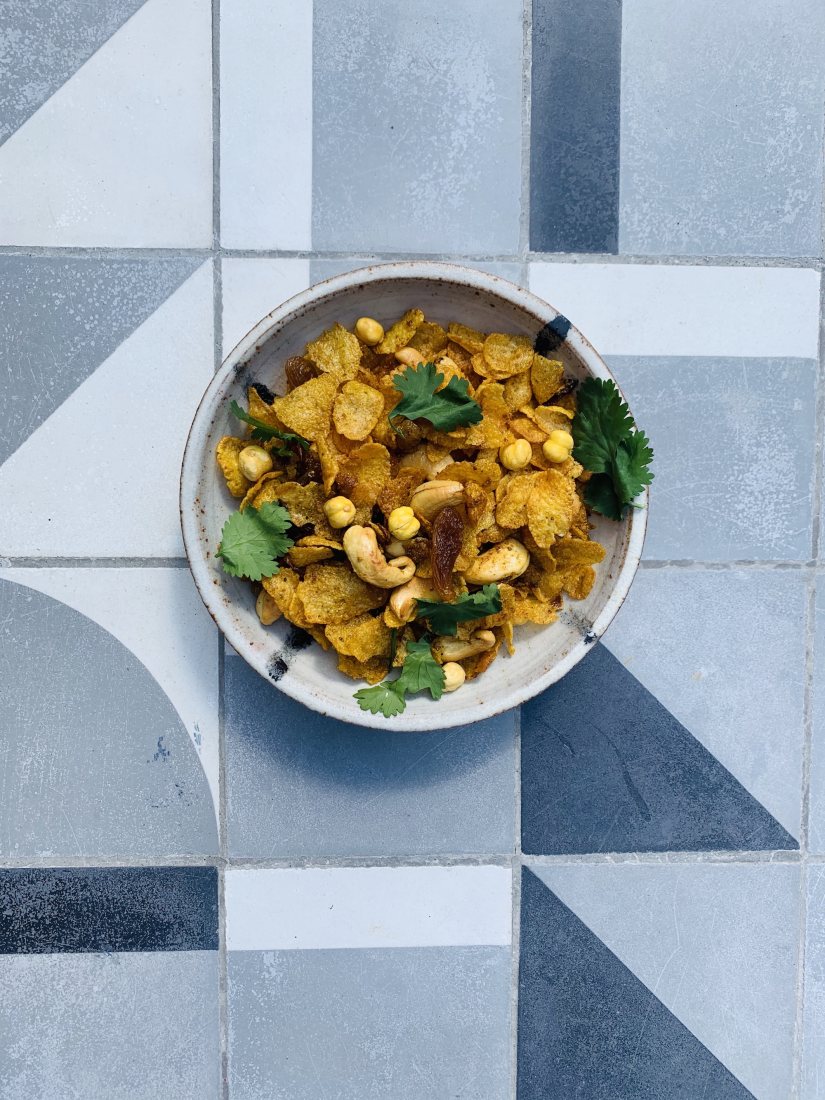 Ingredients:
200g cornflakes
65g cashews or peanuts
25g coconut shavings or unsweetened desiccated coconut
1 onion
1 tsp mustard seeds
12 (fresh or dried) curry leaves
1 tsp turmeric
½ tsp cumin
1 tsp coriander
½ tsp ground chilli
1 tsp golden castor sugar
salt, to taste
juice of ½ a lime
2 tbsp oil
a handful of coriander, to garnish
method:
In a large pan, heat the oil on high. When the oil is hot, turn down the heat and add the mustard seeds. When they've all popped, add the curry leaves and swirl in the oil so they're all coated. Cook the onion in this oil until translucent, then add the nuts and coconut and fry until golden-brown.
Next, add cumin, coriander, chili and finally turmeric. Cook for a minute or so, then add the cornflakes. Make sure to mix thoroughly so all the cornflakes are covered with the spice mix. Finally, add salt and a squeeze of lime directly into the pan. Garnish with coriander.
Print Recipe
dabbadrop.co.uk/
Did you make this recipe?
Share your creations by tagging @livegreenandgood on Instagram with the hashtag #livegreenandgood