Vegan Feta, Butternut Squash, Caramelised Onion and Cashew Nut Wellingtons
Serves: 8
Ready in: 60 mins +
Know your nutrients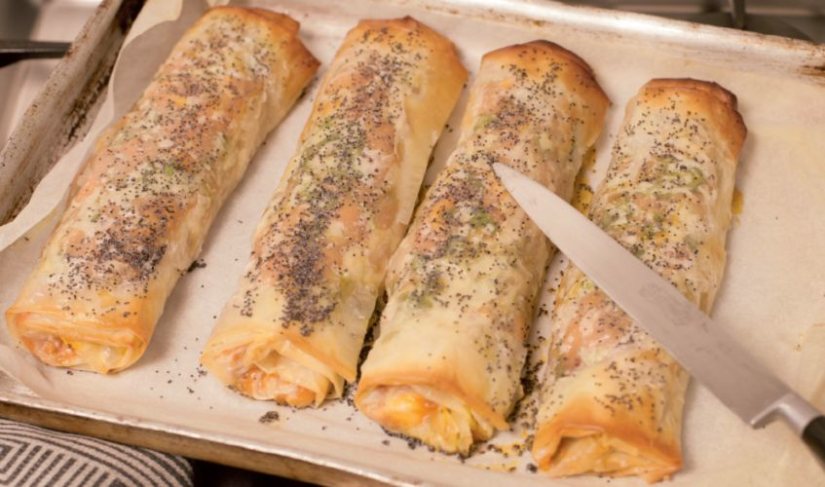 Ingredients:
2 tbsp butter or vegan margarine
2 large white onions, finely chopped
20g caster sugar
1.2kg butternut squash, peeled and deseeded
2 tbsp olive oil
50g cashew nuts
salt and pepper
1 medium bunch of chives, finely chopped
100g vegan feta-style cheese, crumbled
4 vegan filo pastry sheets approx 30cm x 24cm
100g fresh baby spinach, washed
a little vegan margarine, melted
a few poppy seeds
method:
Preheat the oven to 180C/350F/Gas 4. Melt the butter in a pan and fry the onions over a medium heat for approximately 10 minutes, until they are golden brown. Add the sugar, stir through and cook for a further 10 minutes.
Dice the butternut squash into small pieces; put them on a baking tray and drizzle with the olive oil. Roast them in the oven for 30 minutes or until they are soft. Place in a bowl and allow to cool.
Spread the cashew nuts out on another baking tray and roast in the oven for five minutes. Take them out, give the tray a good shake and then put them back for another five minutes, until golden.
Mash the roasted butternut squash and season with salt and pepper. Add the finely chopped chives, caramelised onions and feta and mix them together well. Unwrap the filo pastry and lie it flat, covering it with a damp tea towel to stop it from drying out. Take two pieces of filo and put one on top of the other. Spoon half the mixture into the middle and make a long shape; leave a 5cm border of pastry around the edges.
Place half the spinach leaves on top of the mixture and then half the roasted cashew nuts. Brush the edges of the pastry with the melted margarine. Then roll up the pastry, tucking the short sides in as you roll to keep it neat, and making sure the seam ends up underneath. The end result should be a neat oblong parcel with tucked-in sides.
Brush the top with some more melted margarine and sprinkle with poppy seeds; carefully put the parcel on a large baking sheet. Repeat the same procedure with the remaining ingredients to make a second wellington. Bake them in the oven for 25 minutes until golden brown.
Print Recipe
www.foodforfriends.com
Did you make this recipe?
Share your creations by tagging @livegreenandgood on Instagram with the hashtag #livegreenandgood