Malaysian Rendang Curry
Serves: 4
Ready in: 30 to 60 mins
Know your nutrients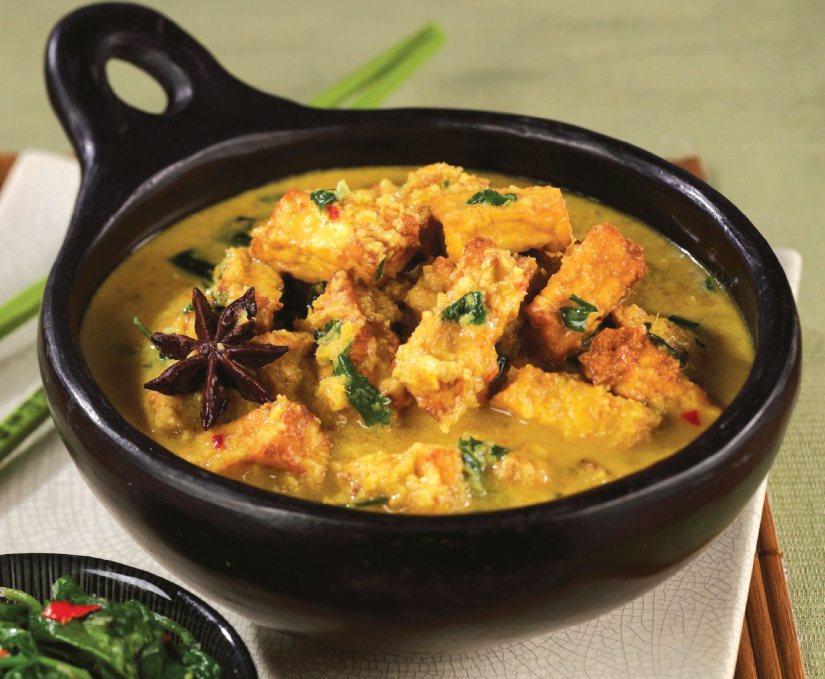 Ingredients:
3 tbsp desiccated coconut
2 garlic cloves
6 shallots or 1 onion, sliced
2 stalks lemongrass, peeled and sliced
2-3 fresh red chillies
2 tbsp fresh ginger, grated
1 tsp turmeric
1 tsp salt
1 tsp sugar
250ml tin coconut milk
125ml water
1 tsp tamarind pulp, dissolved in
1 tbsp water
4 star anise
1 cinnamon stick
2 x 160g packs Cauldron Marinated Tofu Pieces
2 tbsp fresh coriander, roughly chopped, plus extra to garnish

method:
Heat a dry frying pan, add the desiccated coconut and toast until lightly golden.
Pound or blend together the toasted coconut, garlic, shallots or onion, lemongrass, chillies, ginger, turmeric, salt and sugar to make a paste.
Heat the oil in a heavy based frying pan. Add the paste and cook for five minutes, stirring, until fragrant.
Add the coconut milk to the pan, along with 125ml water, the tamarind and water mixture, star anise and cinnamon stick and bring to the boil, stirring constantly.
Reduce the heat and simmer gently for a further five minutes. Then add the marinated tofu pieces and continue to cook the curry gently for another 10 minutes. Stir in the chopped coriander.
To serve, garnish with more fresh coriander. Delicious served with steamed rice or noodles and chilli fried spinach (for the chilli fried spinach recipe, visit [url=http://www.cauldronfoods.co.uk]http://www.cauldronfoods.co.uk[/url]
Print Recipe
Download Shopping List
" target="_blank">
Download Shopping List
Did you make this recipe?
Share your creations by tagging @livegreenandgood on Instagram with the hashtag #livegreenandgood