Creamy Mushroom Stroganoff
Serves: 4
Ready in: 15 to 30 mins
Know your nutrients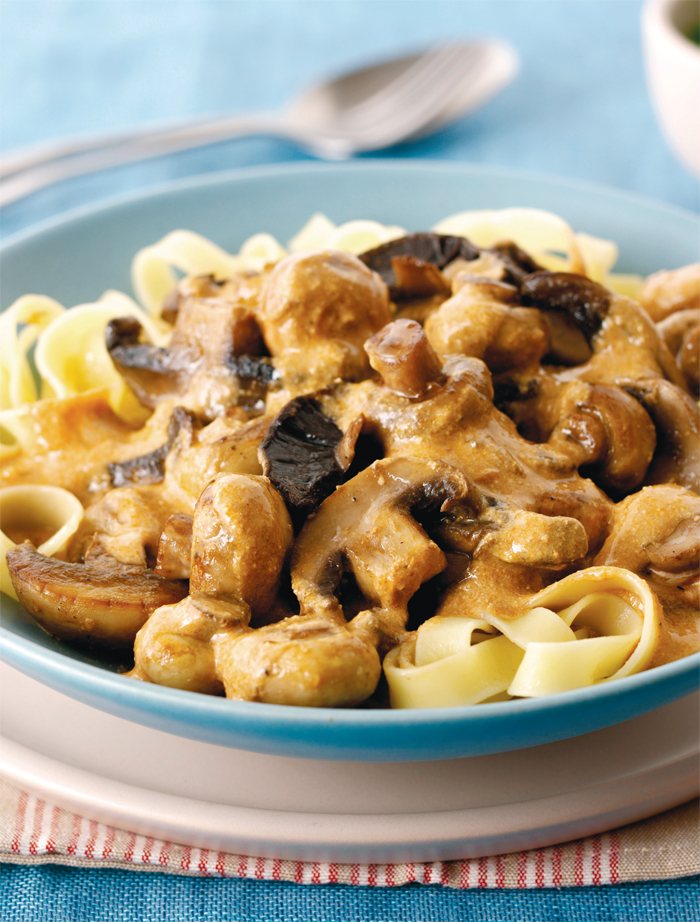 Ingredients:
350g tagliatelle
1 tbsp olive oil
1 small onion, chopped
75g button mushrooms
150g white closed cup mushrooms, sliced
150g large flat mushrooms, sliced
1 clove garlic, crushed
2 tsp ground paprika
3 tbsp vegetarian dry sherry
1 tbsp tomato purée
2 tsp Dijon mustard
squeeze of lemon juice
150ml half fat crème frâiche
2 tbsp chopped fresh flat parsley
method:
Bring a large pan of water to the boil. Add the tagliatelle and cook for 10 mins or according to packet instructions until the pasta is just tender.
Whilst the pasta cooks make the sauce: Heat the oil in a large frying pan, add onions and the mushrooms and sauté for five minutes over a high heat until golden brown. Add the garlic and paprika cook for 30 seconds, stirring all the time.
Stir in the sherry, tomato pureé, mustard and lemon juice, and cook for about 30 seconds, stirring. Stir in the crème frâiche and cook over a gentle heat until piping hot. Season to taste.
Drain the tagliatelle and divide between four bowls. Top with the mushroom mixture and scatter over the parsley.
Print Recipe
www.mushroom-uk.com
Did you make this recipe?
Share your creations by tagging @livegreenandgood on Instagram with the hashtag #livegreenandgood