Spinach and Ricotta Quiche
Serves: 5
Ready in: 30 to 60 mins
Know your nutrients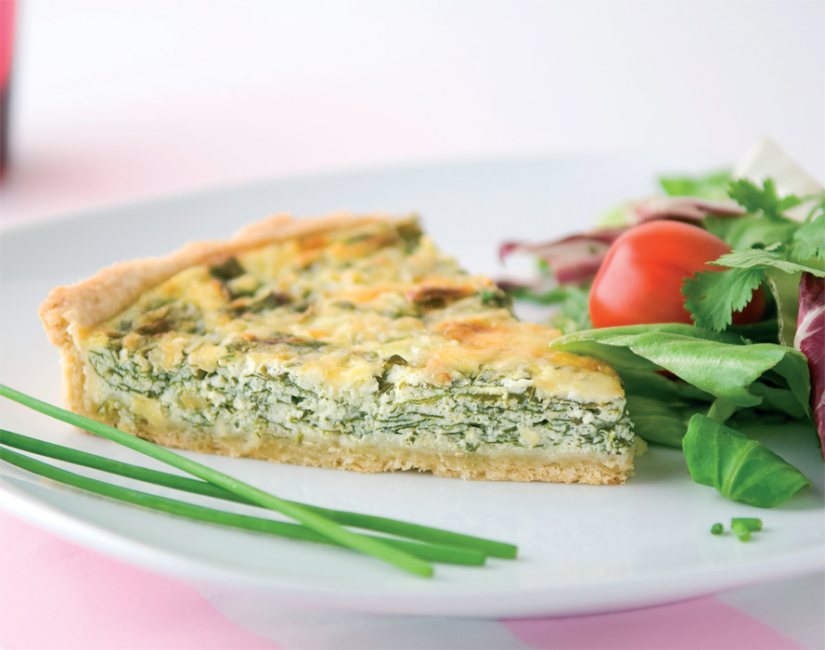 Ingredients:
500g block short-crust pastry, defrosted if frozen
200g Rodda's crème fraîche
3 large free-range eggs
125g ricotta cheese
125g British spinach
50g vegetarian Parmesan-style cheese, grated
grated nutmeg, to taste
pinch of salt
cracked black pepper
40g vegetarian mature cheddar cheese
fresh leaf salad, to serve
method:
Preheat the oven to 200C/400F/Gas 6. Firstly roll out the block of pastry to just larger than the quiche dish (23cm) – the base should be the same thickness as a £1 coin. Put the rolled out pastry into the quiche dish, lightly pressing the pastry into the sides on the dish. Trim the pastry edges leaving them slightly larger than the quiche dish and prick lightly with a fork.
Place some baking paper over the base and add baking beans or rice to weigh it down. Blind bake the base for 10 minutes or until the sides are lightly golden. Remove the paper and the beans and return the base to the oven for another five minutes. Allow to cool slightly.
Beat together the eggs, ricotta and crème fraîche, salt, cracked black pepper, grated Parmesan-style cheese and a little grated nutmeg (to taste). De-stalk the spinach, lightly chop and add, mixing lightly.
Pour the mixture into the pastry base, grate the mature cheddar evenly over the top and place into the lower section of the oven for 25-35 minutes until the filling is set and golden. Allow to cool a little before sliding onto a plate and slicing into wedges. Serve warm or cold with a fresh leaf salad.
Print Recipe
www.roddas.co.uk
Did you make this recipe?
Share your creations by tagging @livegreenandgood on Instagram with the hashtag #livegreenandgood