Day-After Porridge Pancakes with Grilled Honey and Orange Figs
Serves: 4
Ready in: 15 to 30 mins
Made too much porridge? This tasty pancake recipe is a great way to use up any leftovers the next day!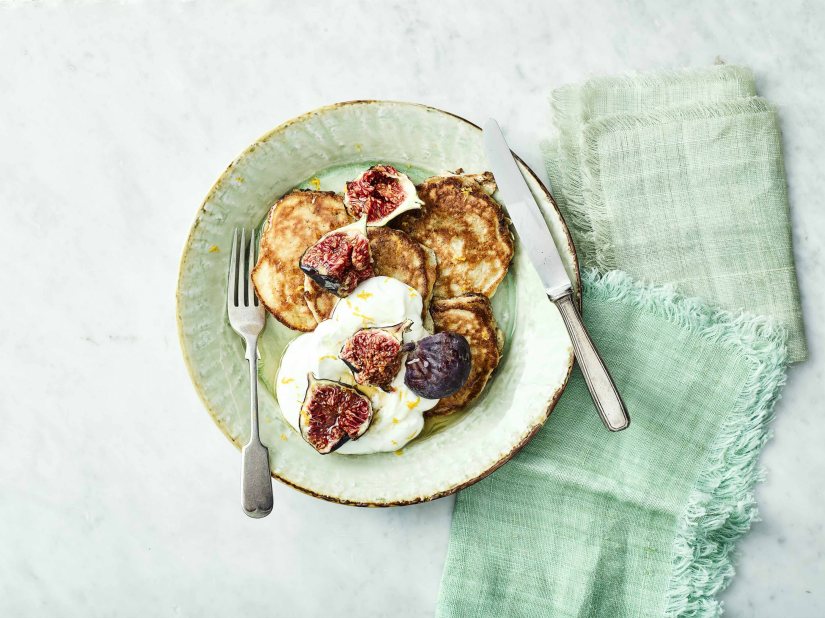 Ingredients:
50g Flahavan's Organic Porridge Oats
250ml milk
(or 275g leftover porridge and a splash of milk)
1 free-range egg
50g plain flour
1 tsp baking powder
4 black figs
a knob of butter
juice and zest of 1/2 orange
1 tbsp honey
Greek yoghurt
method:
Place the Flahavan's Organic Porridge Oats in a small pan over a medium heat with 250ml milk and bring to the boil. Reduce the temperature to a low heat, and continue cooking, for around 10-12 minutes, until thick and creamy. Leave the porridge overnight, covered with some clingfilm (or your preferred plastic-free wrap).
The next day, whisk the overnight porridge together with a splash of milk and the egg, until well combined. Alternatively, you can add the splash of milk and egg to any leftover porridge you may have.
Sift in the flour and baking powder to the porridge, and whisk to combine.
Halve the figs and place cut side facing up on a baking tray. Drizzle with the honey and the orange zest and juice. Place under a hot grill and cook for 5-6 minutes, or until the figs start to release their juices and collapse.
Melt a knob of butter in a non-stick frying pan and cook spoonfuls of the batter in batches, until golden brown on each side. Repeat until all of the batter is used up.
Serve the pancakes with the grilled figs and Greek yoghurt.
Print Recipe
www.flahavans.co.uk/
Did you make this recipe?
Share your creations by tagging @livegreenandgood on Instagram with the hashtag #livegreenandgood