UK's First Plastic-Free Supermarket Opens In London
We can't wait to visit!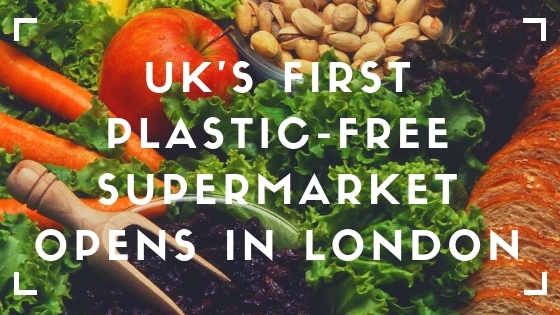 Thornton's Budgens, a community supermarket in Belsize Park, is the first in the UK to launch plastic-free zones and has pledged to become 'virtually plastic-free' by 2021.
The phrase 'single-use' has already been coined as the 2018 word of the year by Collins Dictionary, and it's hardly a surprise, given that BBC programmes Planet Earth and Drowning In Plastic have opened the eyes of the nation to the impact plastic has on the environment. We're all searching for ways to help, and this could be a big step in changing the tide.
Echoing what occurred in Holland in February, the Thornton's Budgens store has converted more than 2,000 product lines to plastic-free packaging, which includes vegetables and crisps and has ambitious plans to be totally plastic-free by 2021.
Andrew Thornton, who owns the Budgens franchise, has been working with plastic campaign group, A Plastic Planet to make these changes. He told the Daily Telegraph,"We're hoping that what we're doing here will challenge the likes of Sainsbury's, Tesco and others." Sian Sutherland, co-founder of A Plastic Planet, added: "All the other supermarkets can look and learn from what we're doing. It's the big brands that are like snails with their pace of change."
Iceland seems to be leading the charge in mainstream supermarkets after announcing earlier this year that more than 2,000 tonnes of plastic packaging would be eliminated by early 2019, and that the brand would be entirely plastic-free by 2023. Here's hoping the other chains follow suit!
Want to help the environment even more? Try one of these zero-waste recipes for dinner tonight!