'Pulled Oats' latest plant-based protein to hit the market
New oat-based mince is now available in the UK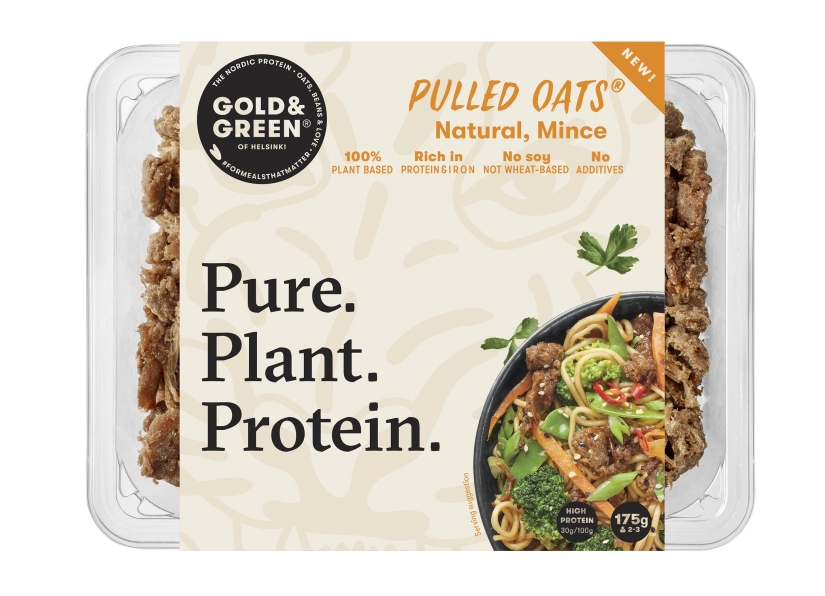 We've seen animal-free proteins made from various ingredients from soya to peas. Now there's a new plant-based protein on the block.
Pulled Oats, an oat-based protein from Finnish makers, Gold&Green, is now available in London in all Planet Organic stores and online at planetorganic.com.
The two new products, Pulled Oats Natural Mince and Pulled Oats Tomato Mince, will appeal to vegans, vegetarians, pescatarians, flexitarians and anyone who is trying to reduce their meat consumption and try versatile vegan meat alternatives.
Containing as much protein as beef (approx. 30g/100g), Pulled Oats is made with just five simple ingredients: oats, yellow peas, faba beans, gently pressed rapeseed oil and salt. The products are made using a mechanical process of pulling the oat-fibres with legume proteins, which results in a unique, fibrous texture that absorbs flavours well and can be spiced easily. It is super versatile, easy to prepare and can be used in both warm and cold dishes. On top of all that it is good for the planet, too, as it contains no animal-based or genetically modified ingredients or additives.
"We are on a mission to provide people with healthy and sustainable food without compromising taste," Sanna Antola, exploration manager at Gold&Green, said. "Since launching in 2015, our products have made a lot of people happy throughout Finland and the Netherlands; they love that Pulled Oats is such a versatile protein that can be used in normal cooking without having to learn new dishes. We hope UK consumers will love our product, too. It's a true superfood with many proven health effects and minimal environmental impact."
Pulled Oats Natural Mince and Pulled Oats Tomato Mince are available for £4.70 each. To find out more and for recipe inspiration, visit: goldandgreenfoods.com/uk