Red Lentil Dahl
Hearty and comforting, this dahl from Arun Kapil, founder of Irish spice company, Green Saffron, and author of Fresh Spice, is a lovely subtly-spiced dish that's perfect for cosy nights in. To make it vegan, simply swap out the butter for vegetable oil.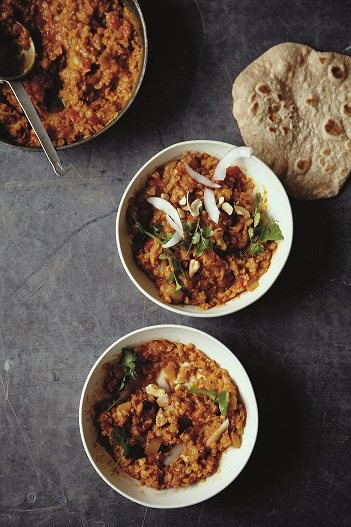 Ingredients:
500g red lentils
a small handful of cashew nuts
1 sachet Green Saffron Red Lentil Dahl spice blend
60g unsalted butter (or 3 tbsp vegetable oil)
250g onions, cut into chunky dices
2 red onions, diced
6 garlic cloves, finely chopped
1 red chilli, deseeded and finely chopped
125g (4 1/2 oz) fresh ginger, grated or blitzed
2 x 400g tins chopped tomatoes
1 tbsp golden caster sugar
2 tsp sea salt
400ml coconut milk
600ml vegetable stock or water
juice of 1 lime
coriander leaves, chopped
a small handful of coconut flakes, to serve
method:
Soak the lentils, in enough water to cover, for 10 minutes. Put the cashew nuts in a dry frying pan and toast over a medium heat for five minutes, or until lightly golden, tossing the pan frequently. Chop the nuts roughly and set aside.
Heat the butter in a large flameproof casserole dish or saucepan over a medium heat. Add the white and red onions, garlic, chilli and ginger, and cook gently for five minutes, or until softened.
Add a sachet of Green Saffron Red Lentil Dahl spice blend and cook gently for a couple more minutes.
Add the tomatoes, sugar, salt and coconut milk, and simmer for 5-10 minutes, stirring occasionally.
Rinse the lentils well and add to the pan. Simmer, adding the stock bit by bit as it's absorbed. Stir occasionally to prevent it from sticking. Cook over a medium heat for 15-20 minutes, until soft.
Stir in the lime juice, sprinkle with fresh coriander, coconut shavings and the cashew nuts, and serve immediately with fragrant basmati rice or Indian flatbreads.
Print Recipe
www.greensaffron.com/
Did you make this recipe?
Share your creations by tagging @livegreenandgood on Instagram with the hashtag #livegreenandgood