Pumpkin and Sweet Potato Soup
Serves: 4
Ready in: 30 to 60 mins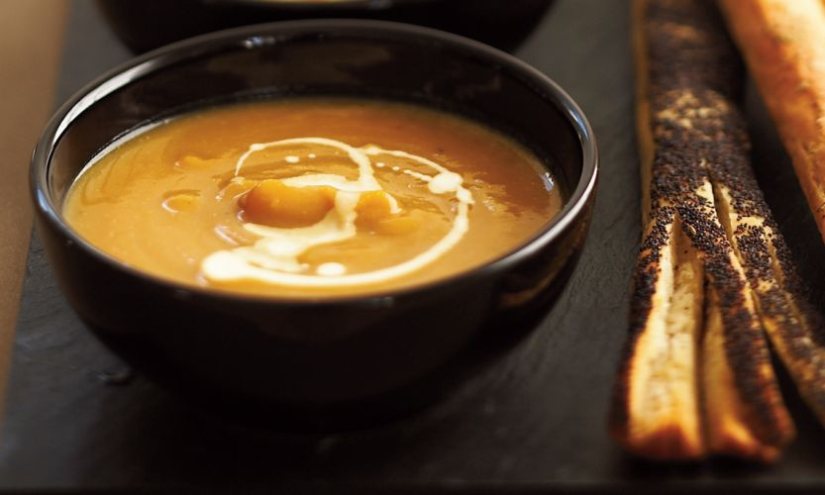 Ingredients:
2 tbsp oil
1 onion, chopped
1 garlic clove, crushed
700g pumpkin flesh, roughly chopped
2 sweet potatoes, peeled and roughly chopped
1.2 litres water or vegetable stock
200ml Alpro Soya Alternative to Milk
4 tbsp Alpro Soya Alternative to Cream
For the breadsticks:
4 assorted part-baked breadsticks
2 tbsp olive oil
method:
Heat the olive oil in a large pan, add the onion and garlic and cook for a few minutes to soften.
Add the pumpkin and sweet potato and cook for a couple of minutes, then add the water or stock. Season with salt and pepper, cover and bring to the boil. Once boiling, turn the heat down and simmer for 25 mins until the pumpkin and sweet potato are really tender.
Preheat oven to 200C/400F/Gas 6. Cut the bread in half lenthways, then make several cuts one third of the way up the length to look like broom bristles. Repeat with the other bread, put onto a large baking sheet and drizzle with olive oil. Bake for 5-8 mins until becoming golden.
Stir the milk into the soup, whiz everything together in a blender or processor in batches until smooth. Return to the pan, gently warm through and serve, finishing with a swirl of soya cream.
Print Recipe
www.alprosoya.co.uk
Did you make this recipe?
Share your creations by tagging @livegreenandgood on Instagram with the hashtag #livegreenandgood