Herby Broad Bean & Pea Salad with Garlic Pitta Shards
Serves: 4
Ready in: 15 to 30 mins
This bright green fresh flavoured salad makes the perfect quick and easy light lunch. Feeling hungry? It's also fabulous served with a vegetarian grill, bake or cutlet, turning an everyday meal into something really special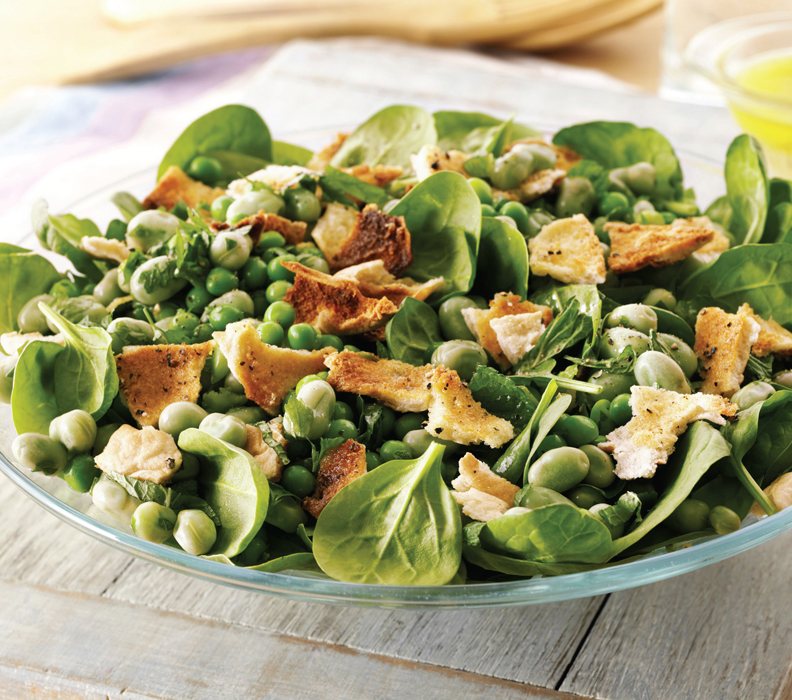 Ingredients:
2 pitta breads a little olive oil
1 garlic clove, bashed lightly to loosen the skin
350g podded broad beans fresh or frozen
150g garden peas, fresh or frozen
3 tbsp chopped fresh mint
3 tbsp chopped fresh basil
2 tbsp chopped fresh flat leaf parsley zest and juice of 1 lemon
4 tbsp extra virgin olive oil salt and freshly ground black pepper
1 large bag baby leaf salad
method:
To make the pitta shards, pop the pittas under a hot grill and toast for a few minutes on each side until they puff up. Use a knife to separate each pitta into two thin flats. Place these back on the grill rack, brush with a little olive oil and toast again, turning until crispy and golden. Remove from the grill, cool slightly, then rub the clove of garlic all over each. Set aside.
Cook the broad beans in boiling salted water for four mins, drain reserving the water, then rinse the beans in a colander under cold water. Bring the water back to the boil, add the peas, bring to the boil and cook for two mins. Rinse these in the colander under cold water. Drain.
In a large bowl, mix the broad beans, peas, mint, basil, lemon zest and juice, flat leaf parsley and oil, then season to taste. Arrange the salad leaves over the base of a large platter or bowl and spoon the bean salad on top. Break the pitta into large shards and scatter over the top of the salad before serving.
Print Recipe
www.salad-recipes.co.uk
Did you make this recipe?
Share your creations by tagging @livegreenandgood on Instagram with the hashtag #livegreenandgood