Gluten-free and Vegan Flatbreads
Serves: 6
Gluten Free‏ Quick Make Vegan Friendly
These easy flatbreads, made with gluten-free flours and dairy-free yoghurt, are an excellent free-from replacement for nan, pitta, flatbreads and all those yummy breads that accompany dinner.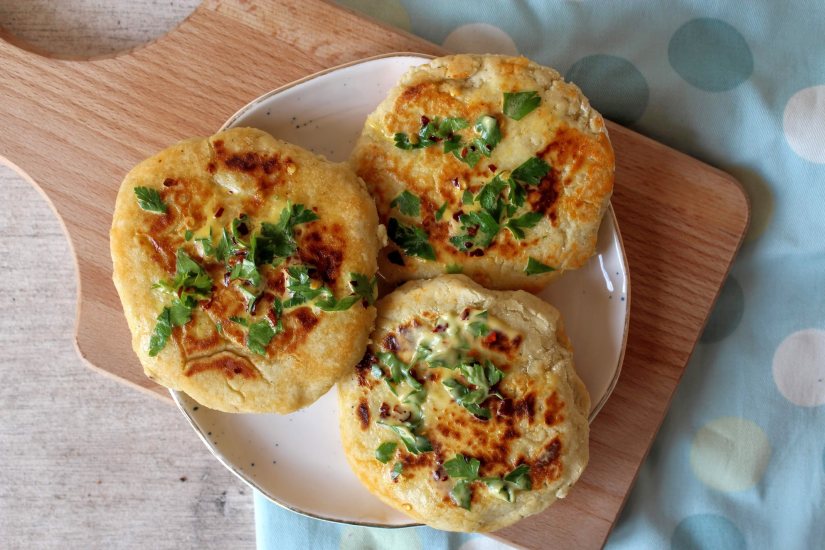 Ingredients:
250g quinoa flour
100g brown rice flour
1 tsp baking powder
200g coconut yoghurt
4 tbsp olive oil
100ml water
salt & pepper, to taste
For the garlic, parsley & chilli butter (optional):
15g vegan butter or margarine
10g fresh parsley, chopped
1 clove garlic, crushed
pinch of chilli flakes
black pepper
method:
Mix together the flours and baking powder.
Pour in the yogurt, oil and water and mix well with a large spoon, then use your hands to bring everything together.
Dust a work surface with flour and knead a little. Roll into a ball, place in a bowl, cover and set aside while you make the butter.
Beat together the butter, garlic, parsley and black pepper and store in the fridge until needed.
Divide the dough into 6 equal pieces and use your hands to flatten and pat the dough into rounds, about 3mm thick.
Heat some oil in large non-stick pan and once hot, cook each for 2-3 minutes on each side, until puffed up and golden. Repeat.
While still hot, brush over a little of the butter on top and allow to melt. Enjoy while still warm!
Print Recipe
www.indigo-herbs.co.uk
Did you make this recipe?
Share your creations by tagging @livegreenandgood on Instagram with the hashtag #livegreenandgood