Falafel Burger
Serves: 4
Ready in: 15 to 30 mins
Know your nutrients
We love a hearty burger and this easy falafel burger recipe really hits the spot! The mixture is incredibly quick and easy to make, then you can finish off your burger with your favourite toppings and condiments.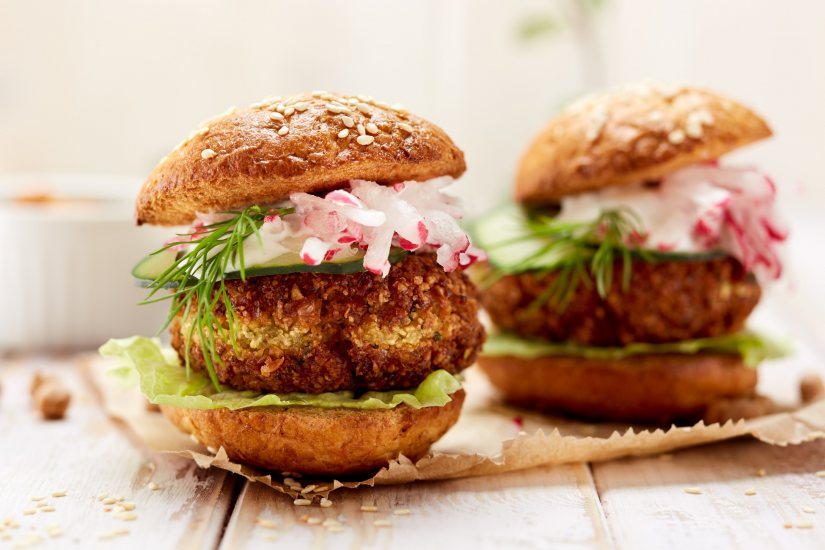 Ingredients:
Cooks & Co chickpeas, drained
1 small red onion, roughly chopped
1 garlic clove, roughly chopped
a small bunch of parsley
1 tsp ground cumin
1 tbsp ground coriander
½ tsp harissa paste (or chilli powder)
1 tbsp plain flour
2 tbsp sunflower oil
burger buns
salad and condiments of your choice
method:
Place the chickpeas, red onion, garlic, parsley, cumin, ground coriander, harissa paste/chilli powder and flour into a food processor. Season with salt and pepper then blitz until fairly smooth.
Shape the burger mixture into patties then heat the oil in a frying pan and fry the falafel for three minutes on each side, or until golden.
Assemble the burgers using salad and condiments of your choice.
Print Recipe
cooksandco.co.uk/
Did you make this recipe?
Share your creations by tagging @livegreenandgood on Instagram with the hashtag #livegreenandgood