Veggie Sushi
Serves: 1
Ready in: 15 to 30 mins
Eco Friendly Quick Make Vegan Friendly
This is a fun recipe to make – don't be put off by the instructions as you prepare everything while the rice is cooking so it's pretty quick to do! It makes 6-8 pieces of sushi, but you can easily up the quantities to make multiple servings for parties, using a different coloured ingredient in each nori sheet for pretty canapes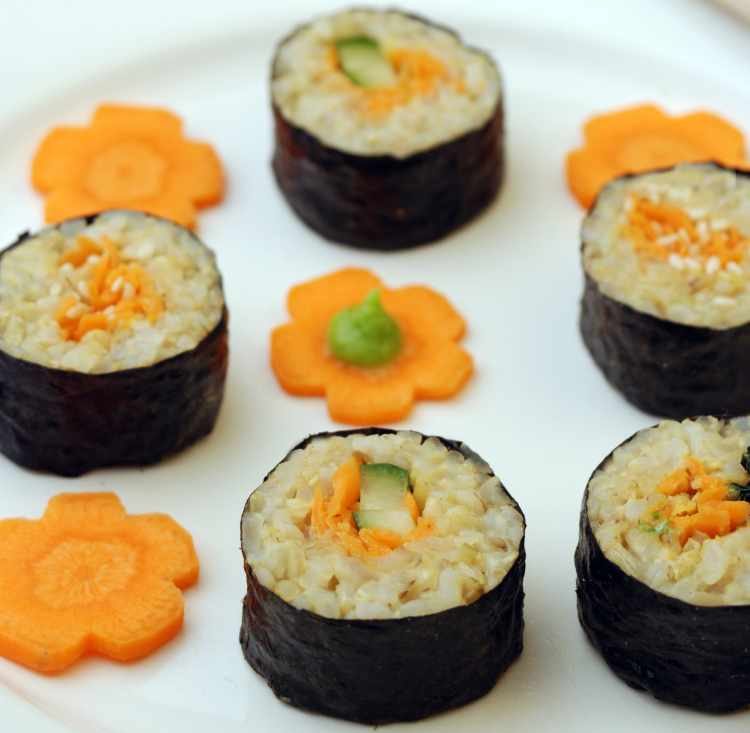 Ingredients:
115g short grain brown rice
1 tsp vegan low-salt bouillon powder
1 sheet nori
11/2 tsp tahini
1 tbsp shoyu soya sauce
1 medium carrot, grated
1 tsp fresh ginger, grated
small handful dried arame (soak for 10 mins then rinse and drain)

[hd]Plus any one of these options[/hd]
thinly sliced cucumber
thin strips of avocado
sauerkraut (pickled cabbage)
toasted sesame seeds
spring onion greens, chopped

[hd]To serve[hd/]
2 tbsp shoyu soya sauce mixed with 2 tbsp cold water
wasabi to taste
method:
Cook the rice in 230-300ml water and bouillon powder until well cooked and slightly sticky – about 25-30 minutes. (All the liquid should be absorbed.)
Meanwhile, grate the carrot and ginger. Prepare a further ingredient from the options and make a side salad if liked.
If you don't have a sushi mat, wet a clean teatowel and wring out well. Let the rice cool. It should be fairly sticky and just slightly warm. Mix in the shoyu soya sauce and the grated ginger and stir thoroughly.
If the nori isn't ready-toasted, do this now by holding it by a corner over a gas flame or hot electric ring until it turns green.
Place the nori sheet carefully on your sushi mat/damp teatowel. Spread the rice thinly on the nori sheet, leaving a 1cm gap at the top and bottom.
With a chopstick or the handle of a wooden spoon, make a horizontal indentation in the middle of the rice.
Spread the tahini in the gap and then add the grated carrot and arame. Add your chosen option from the list.
Using the mat/teatowel, roll the nori up into a mini Swiss roll, pulling the leading edge of the mat/teatowel back so it doesn't get rolled into the sushi. Continue rolling tightly until the top edge of the nori is reached.
Wet this edge with a little cold water and roll to seal the sushi. Slice the roll in half with a sharp knife. Then slice each half into 3 or 4 pieces.
Serve on a plain white plate, with the soya sauce dip, a small dab of wasabi and a green salad if liked.
Print Recipe
www.vegetarian.org.uk
Did you make this recipe?
Share your creations by tagging @livegreenandgood on Instagram with the hashtag #livegreenandgood