Veggie Lasagna
Serves: 4
Ready in: 60 mins +
This tasty take on the popular Italian classic from Alpro is bound to be a crowd-pleaser!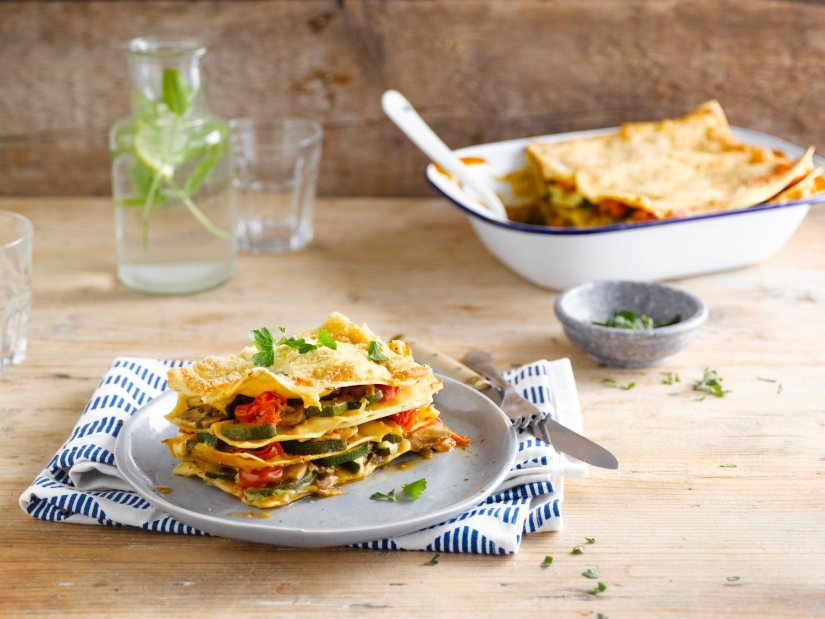 Ingredients:
500g mushrooms
2 courgettes
2 shallots, finely chopped
1 clove garlic, crushed
4 tbsp olive oil
320g cherry tomatoes, halved
2 sprigs of parsley
pinch of salt and pepper
Mixed dried herbs
50g flour
750ml Alpro Soya Unsweetened
Pinch of nutmeg
12 dried lasagne sheets
method:
Preheat the oven to 200C/400F/Gas 6. Slice the mushrooms, courgettes, shallots and garlic.
Sauté the finely chopped shallots, crushed garlic and sliced mushrooms in 1 tbsp of olive oil. After five minutes, add the sliced courgette, halved cherry tomatoes and the chopped parsley and allow to cook for three minutes. Season with freshly ground pepper, salt and the mix of dried herbs.
For the béchamel sauce, heat the rest of the olive oil in a saucepan and sprinkle in the flour while stirring continuously until the mixture becomes smooth. Let it cool and then gradually pour in the Alpro Soya Unsweetened. Stir and bring to a simmer.
Allow it to simmer until the desired thickness is achieved. Season with freshly ground pepper, salt and nutmeg.
Cover a greased baking dish with a layer of lasagne sheets. Create the lasagne by alternating the lasagne sheets, vegetable mixture and béchamel sauce. Repeat until the baking dish is full and finish with a layer of béchamel sauce.
Place the baking dish in the preheated oven and bake for 45 minutes. Sprinkle over the mixed herbs nd serve.
Print Recipe
www.alpro.com/uk
Did you make this recipe?
Share your creations by tagging @livegreenandgood on Instagram with the hashtag #livegreenandgood