Vegetarian Shepherd's Pie
Serves: 4
Ready in: 30 to 60 mins
Looking for something hearty and comforting? A shepherd's pie is a real classic that will certainly hit the spot. The key to a successful vegetarian shepherd's pie is to let the lentil stew cook for a lot longer than you'd think. The texture and flavour will resemble a meaty version so accurately that your non-vegetarian friends will never know the difference!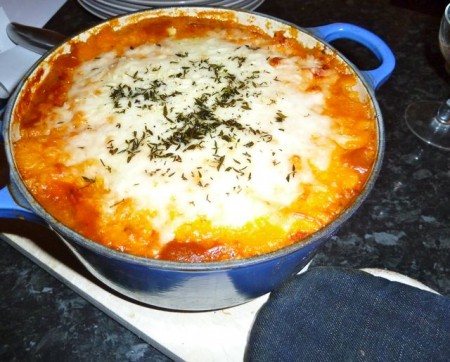 Ingredients:
1 tbsp olive oil
1 onion, sliced
2 garlic cloves, finely chopped
3 carrots, peeled and chopped
2 tbsp fresh thyme, finely chopped
225ml red wine
1 tin chopped tomatoes
170ml vegetable stock
380g green lentils, cooked
4 medium sweet potatoes, peeled and chopped
2 tbsp goat's butter
85g mature goat's cheddar, grated
method:
In a large saucepan or casserole dish, heat the oil, then add the onion, and cook for five minutes until slightly softened. Add the carrots and garlic and continue to cook for two minutes. Reserve a tiny bit of the thyme for sprinkling on top, and put the rest into the pan with the veg. Sauté for one more minute.
Pour in the veg stock, wine and tomatoes, and simmer for 10 minutes. Add the lentils, then cover and simmer for 15-20 minutes, or until the lentils have started to break down.
Meanwhile, boil the sweet potatoes for 15 minutes until tender, then drain and mash with the butter. Add salt and pepper, to taste.
Prepare the pie in a casserole dish with the lentil mixture on the bottom, followed by the sweet potato mash spread across the top. Sprinkle the grated cheese over the sweet potatoes, and finish with the remaining chopped thyme on top. At this point you can cover and chill the pie for two days, or freeze it for up to a month!
Bake in a preheated oven at 190C/375F/Gas 5 for 20 minutes (40 minutes, if cooking from chilled), or until golden and bubbling. Serve with purple sprouting broccoli or your favourite veg.
Print Recipe
particularmolly.tumblr.com/
Did you make this recipe?
Share your creations by tagging @livegreenandgood on Instagram with the hashtag #livegreenandgood