Vegetarian Frankfurter with Root Vegetable Mash and Fried Onions
Serves: 4
Ready in: 30 to 60 mins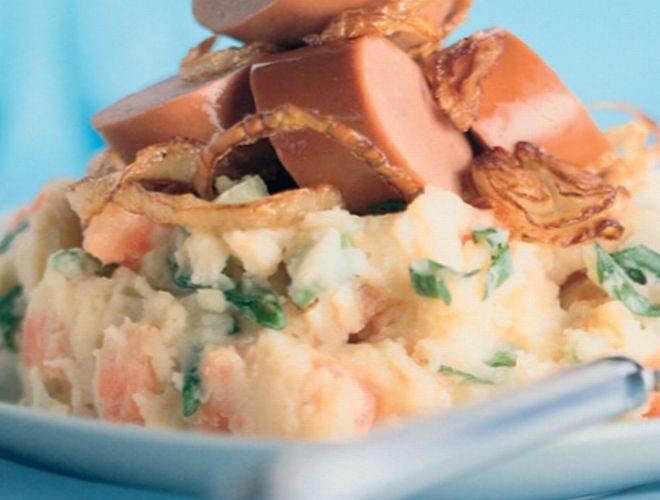 Ingredients:
450g sweet potatoes, peeled and cubed
3 large carrots, peeled and cubed
1 celeriac (approx 850g), peeled and cubed
50g butter
50ml milk
pinch of ground nutmeg
salt and freshly ground black pepper
3 spring onions, chopped
3 tbsp vegetable oil
2 medium onions cut into thin rings
1 pack of Tivall Eight Vegetarian Frankfurters
method:
In a large pan, cook the sweet potatoes, carrot and celeriac in boiling salted water for 20-25 minutes or until tender. Drain, add the butter and milk and mash the vegetables.
Stir in the chopped spring onion and season to taste with the nutmeg, salt and pepper. Keep warm while you prepare the frankfurters.
Meanwhile, heat the vegetable oil and fry the onion until crisp and golden and then dry on absorbent kitchen paper.
Cook the frankfurters in boiling water as directed on the pack. To serve, divide the mash between four plates. Cut the veggie Frankfurters into thick slices then pile on top of the mash. Top each serving with the fried onions.
Print Recipe
www.tivall.co.uk
Did you make this recipe?
Share your creations by tagging @livegreenandgood on Instagram with the hashtag #livegreenandgood