Vegan Peach Ice Cream
Serves: 6
Freezes Well Gluten Free‏ Vegan Friendly
What do you get if you mix sweet peaches - picked at the peak of ripeness - with the wonder that is coconut milk? Delicious vegan ice cream!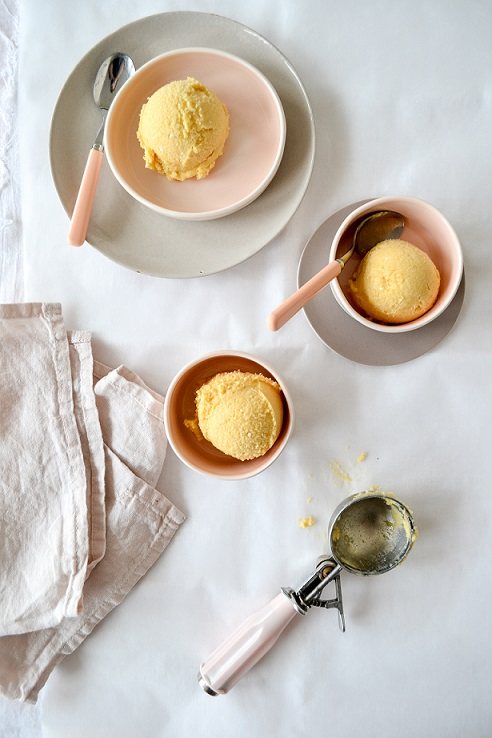 Ingredients:
400g pot Nature's Finest peach slices
150g coconut milk
100g coconut water
1-2 tbsp maple syrup
1-2 tbsp lemon juice
method:
An hour before you plan to make the ice cream, drain the peach slices. Finely chop, then place on a baking tray. Put the baking tray in the freezer.
Meanwhile, line a loaf tin with three sheets of cling film, leaving plenty of excess cling film hanging over the sides.
Once frozen, transfer the diced peach to a food processor. Add the coconut milk and half of the coconut water. Blend until smooth and churned (you may need to add more of the coconut water gradually as you are blending).
Add maple syrup and/or lemon juice to taste. Transfer to the lined loaf tin. Carefully fold the excess cling film over the top, so that the ice cream is completely sealed. Place in the freezer for 1-2 hours to freeze completely.
Remove the ice cream from the freezer for 15 minutes before serving, to allow it to thaw to a scoopable consistency.
Print Recipe
Recipe created by Lucy Burton from Pudding Lane Blog on behalf of Nature's Finest. naturesfinestfoods.co.uk/
Did you make this recipe?
Share your creations by tagging @livegreenandgood on Instagram with the hashtag #livegreenandgood