Vegan Lasagne
Serves: 6
Ready in: 60 mins +
Everyone loves a hearty lasagne, and this recipe can easily be doubled to feed a big crowd, or if you're batch cooking and want recipes that are easy to freeze. Celeriac, steamed and blitzed with a generous amount of olive oil, makes an excellent and surprisingly creamy 'béchamel'. The tomato and red lentil sauce is certainly no mere filler, either – it's fruity, warming and flavoured with plenty of oregano and thyme that screams Italian! Recipe extracted from Haynes Vegan Man (Haynes Publishing, £22.99)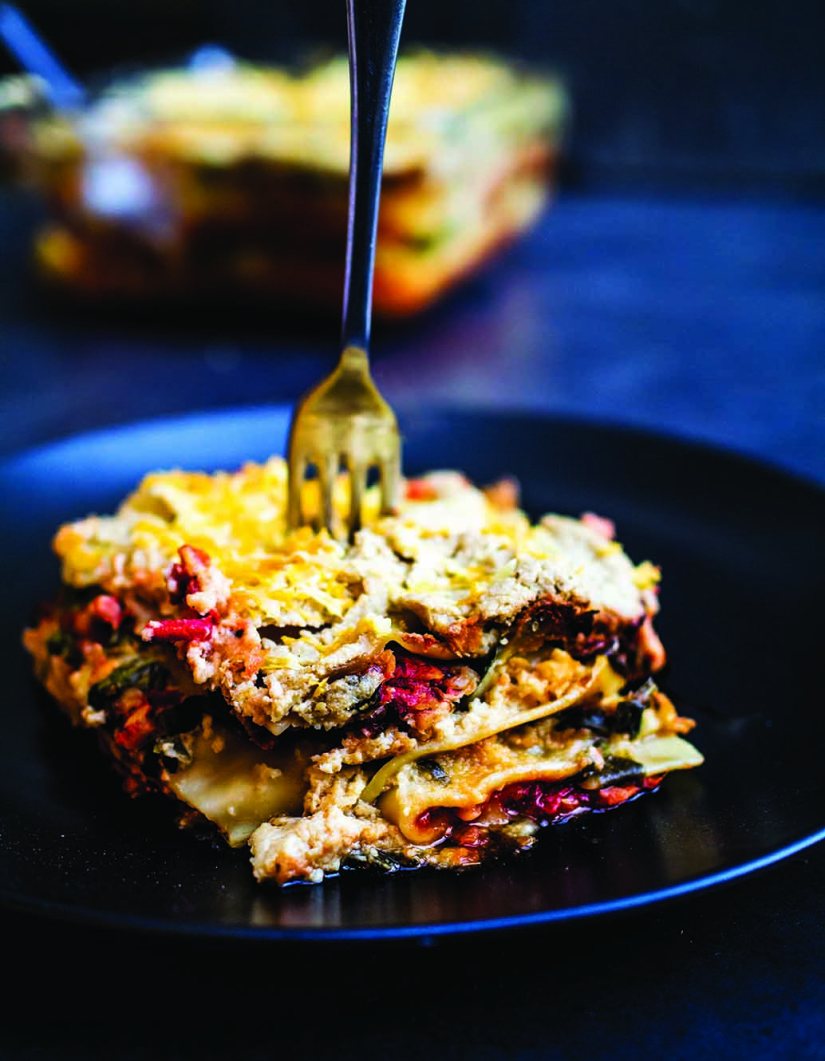 Ingredients:
For the tomato-lentil sauce:
3 tbsp olive oil
1 medium red onion, finely chopped
1 medium white onion, finely chopped
4 large garlic cloves, finely chopped
1 medium fresh red chilli, seeded and thinly sliced
1 red bell pepper, chopped
1 tbsp dried oregano
2 tsp dried thyme
1 tsp fine salt
1 tsp sugar
225g dried red lentils, rinsed
2x 400ml tins chopped tomatoes
a good grind of ground black pepper
For the celeriac 'béchamel':
1 medium celeriac (roughly 600g) celeriac, peeled and chopped
120ml extra virgin olive oil
½ tsp fine salt
To assemble:
200g lasagne sheets
1 tbsp neutral vegetable oil, for greasing
175g baby or leaf spinach, finely chopped
3 large handfuls (about 115g) of tortilla chips
45g dried breadcrumbs
method:
First, make the tomato-lentil sauce. Heat the oil in a large frying pan over a medium heat. Add the onions and sauté for five minutes, then add the garlic, chilli and the pepper and cook for 10 more minutes.
Stir in the oregano, thyme, salt, sugar and lentils, followed by the chopped tomatoes. Fill one of the empty tins with water and add that, too. Leave to simmer for 25 minutes, then add the black pepper and set aside.
While the sauce is cooking, steam the celeriac over a pan of simmering water for 15 minutes, until it's soft but not mushy. Cool the celeriac down by rinsing it thoroughly with cold water. Shake it to ensure it's drained, then place it in a food processor or jug blender, and blitz to a purée.
With the food processor motor still running, slowly drizzle in the olive oil, so it's well incorporated into the celeriac purée. If you are using a jug or stick blender instead of a food processor, add the oil one tablespoon at a time in between pulses. Add the salt and pulse one more time. Set aside.
Preheat the oven to 180C/350F/Gas 4. Boil 500ml water in the kettle. Lay the lasagne sheets out in a single layer on two baking trays. Pour the boiling water over the lasagne sheets and soak for 2–3 minutes, then drain the water.
To assemble, grease an ovenproof baking dish with oil, then pour one-third of the tomato-lentil sauce into the base of the dish. Cover with a layer of lasagne sheets, then spread over half the celeriac 'béchamel'. Sprinkle half of the spinach on top, then another third of tomato-lentil sauce and then another layer of lasagne sheets. Repeat the layers, finishing with béchamel, then cover with foil and bake for 40 minutes.
Meanwhile, blitz the tortilla chips in a food processor to a breadcrumb consistency. Alternatively, put them in a freezer bag and crush them with a rolling pin. Combine with the breadcrumbs in a small bowl.
After the lasagne has been in the oven for 40 minutes, take it out and uncover it. Evenly sprinkle the breadcrumbs and crushed tortilla chips over the surface. Return to the oven for 10 minutes, until golden. Remove from the oven and leave to stand for 5–10 minutes before serving.
Print Recipe
haynes.com/en-gb/
Did you make this recipe?
Share your creations by tagging @livegreenandgood on Instagram with the hashtag #livegreenandgood