Vegan Carrot, Coriander & Quinoa Burgers
Serves: 10
These delicious burgers are perfect for the vegan curious and those following a gluten-free diet. They are easy to make and can be stored in the fridge for 3 days or frozen, so ideal for batch cooking. They are packed with protein and can be enjoyed at breakfast, lunch or dinner. This recipe makes going vegan easy!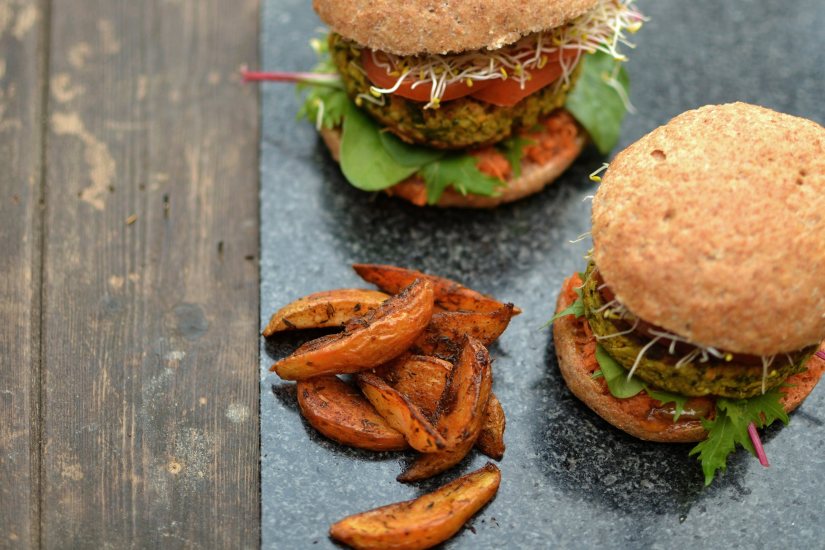 Ingredients:
2 tbsp chia seeds (approx. 20g) soaked in 75 ml water
200g pre-cooked tricolor quinoa grains (approx. 50g dried quinoa)
3 medium onions, finely chopped
4 garlic cloves, finely chopped
½ tsp coriander seeds
½ tsp curry powder
1 tbsp cumin powder
1 tbsp tumeric pow
1 tsp pink himalayan salt
3 tbsp coconut oil, for frying
200g carrots (about 3 medium carrots), grated
100g nuts and seeds (sunflower, pumpkin and pine kernels)
a generous handful of spinach
2 small red chillies, chopped
50g fresh coriander, chopped
80g gram flour
method:
Pre-cook the quinoa grains following instructions on the packet and leave to cool.
Soak the chia seeds in the water in a small container, and set aside to create the chia "egg"
In a large saucepan heat 1 tbsp. of coconut oil and add the curry powder, tumeric powder , cumin powder and coriander seeds stirring for a few minutes until the spices start to colour slightly.
Add all of the chopped onion and garlic to the pan along with salt, coat nicely in the spices and fry on low to med heat for 10-15 mins until softening and turning translucent .
Add the grated carrot, seeds and nuts, chopped chilies and fresh spinach, mix in well and cook for another 10 mins until all cooked down and seeds and nuts have softened a bit. Add more salt to taste at this stage.
Transfer to a large mixing bowl and leave to cool for a few minutes.
Into this cooked mix, add the fresh chopped coriander, the chia seed "egg" mixture and cooked quinoa. Mix well together ensuring the chia is evenly distributed. The mix should be a bit wet and sticky.
Lastly, add the gram flour a spoonful at a time, mixing in very well until the mix is not so wet but remains sticky. This texture is essential to hold the shape of the patties.
Next shape the mix into approx. 10 patties about 1.5 cm thick. Making sure the patties are solid and well formed with clean edges will help them keep their form while cooking too, rough or split edges will burn and break making a burning mess in the pan! Wetting your hands can help to smooth down surfaces of patty if you get in a bit of a sticky mess.
In another frying pan (nonstick ESSENTIAL) heat a little of the coconut oil and fry the burgers for approx. 5 mins on each side, keeping them moving to prevent sticking and using spatula to keep smoothing down edges.
Serve in a gluten-free roll with mango chutney, fresh leaves, tomato, grated carrot and alfalfa sprouts. With homemade potato wedges.
Print Recipe
www.indigo-herbs.co.uk/
Did you make this recipe?
Share your creations by tagging @livegreenandgood on Instagram with the hashtag #livegreenandgood