Tamil 'Gobhi' Salad
Serves: 4
If you're serving up a vegan 'fakeaway' or Indian-inspired dinner, then this cauliflower salad will make a delicious addition to your spread. The vegan-friendly recipe can be served with coconut or soya yoghurt (or plain, if you're vegetarian).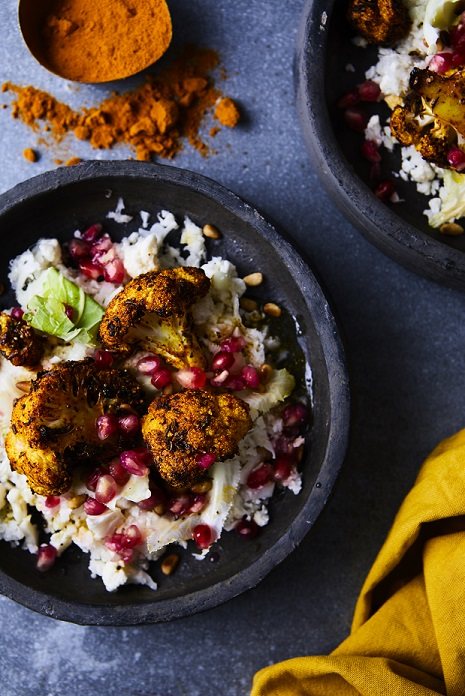 Ingredients:
1 head white cauliflower, green stalk removed, leaves retained
2 tbsp rapeseed oil, plus a little more for later
1 sachet Green Saffron Madras spice blend
juice 1⁄2 lemon
juice of 1 lime
1 tsp sea salt
4 tbsp pomegranate seeds
3 tbsp cashew nuts, toasted
a good handful each of rocket leaves, picked coriander and mint
method:
Set your grill to high. Chop the cauliflower in half, then grate one half on the small-gauge side of a box grater, to create a couscous type result. Set aside. Pluck small florets from the other half.
In a bowl, mix the florets with the two tablespoons of oil and the spice blend, tip these out into a grill pan and place on a medium rack under the grill. Once the edges of the florets begin to bubble, keep an eye on them and remove when slightly charred. Set aside.
Finely slice the green leaves of the cauliflower, pop them onto a charger or large plate, add the grated cauliflower, herbs and rocket. Set aside.
Mix lemon and lime juices well with two tablespoons more of oil and the salt. Pour this over the cauliflower, gently fold everything together then dot with the florets, the pomegranate and nuts.
To serve, tidy up the presentation plate and take to table, served with a bowl of Greek yoghurt, if you'd like.
Print Recipe
www.greensaffron.com/
Did you make this recipe?
Share your creations by tagging @livegreenandgood on Instagram with the hashtag #livegreenandgood