Stir-fried veggies & crispy tofu with peanut noodles
Serves: 4
Ready in: 15 to 30 mins
For years, a big veg stir-fry was my go-to meal as it's so quick and easy to make. This recipe transforms it into something really special with this incredible peanut satay sauce. Be More Vegan: The Young Person's Guide to a Plant-based Lifestyle by Niki Webster (£14.99, Welbeck) is available now. You can follow Niki online @RebelRecipes.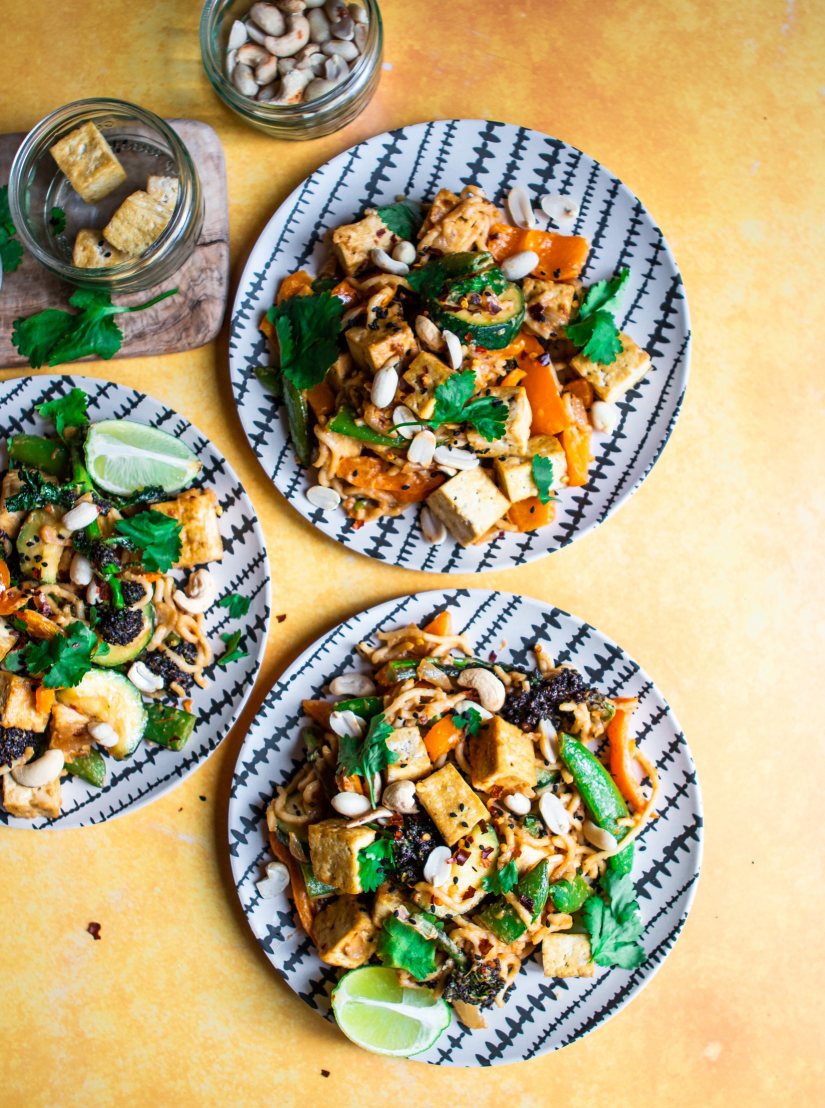 Ingredients:
For the crispy tofu:
400g natural firm tofu, cut into cubes
1 tbsp vegetable oil
For the peanut satay dressing:
5 tbsp chunky peanut butter
juice of 1 lime
1 tsp garlic powder
2 tbsp soy sauce
3 tbsp toasted sesame oil
1 tsp maple syrup
4 tbsp water
pinch of chilli flakes
For the stir-fry:
1 tbsp veg oil
1 onion
3 garlic cloves
1 red pepper
75g broccoli
100g sugar snaps
½ courgette
300g straight-to-wok vegan noodles
Toppings:
Toasted peanuts or cashews
method:
To make the tofu, drain and slice the tofu into large cubes, then heat the oil in a large frying pan or wok. Fry the tofu for a few minutes each side, until brown and crispy, then transfer to a plate.
To make the satay sauce, add the ingredients to a jar and mix well to combine.
Now make the stir-fry. Roughly chop the onion and slice the garlic. Heat a large frying pan to medium then add the oil. Add the onion and fry for 7-8 minutes, until soft and browning, then add the garlic.
Roughly chop up all the veg, then add it to the pan. Fry for 3-4 minutes, until the veg is cooked but still crunchy.
Add the noodles and peanut sauce, stir to combine and cook for a further minute. Now add the crispy tofu and stir it in carefully. Serve topped with toasted nuts. TIP: The tofu adds loads of plant-based protein, and pan-frying it makes it taste amazing.
Print Recipe
www.rebelrecipes.com/
Did you make this recipe?
Share your creations by tagging @livegreenandgood on Instagram with the hashtag #livegreenandgood