Soy Tomato Burgers
Serves: 4
Ready in: 15 to 30 mins
Shake things up over the barbecue season with this delicious treat from The Meatless Farm Co and DJ BBQ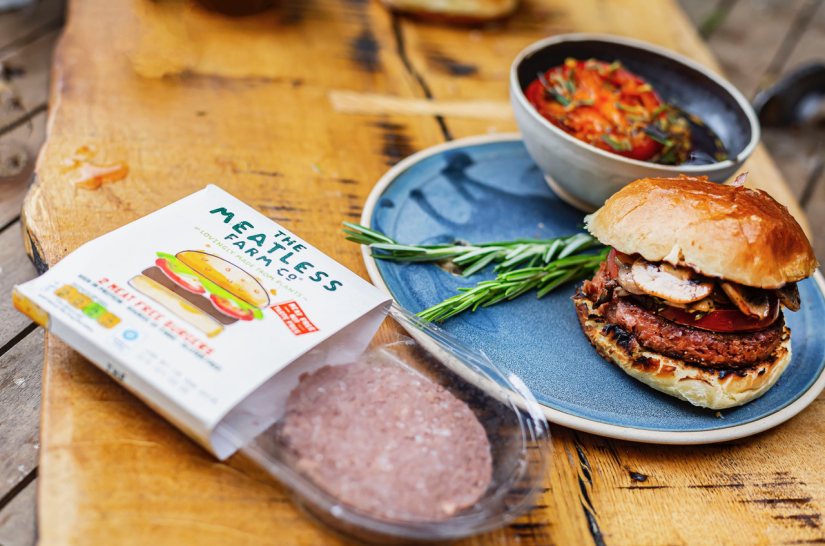 Ingredients:
2 packs Meatless Farm burgers
vegetable oil
salt and pepper
300g mushrooms, chopped
4 brioche buns
For the tomato and soy sauce marinade:
100ml light soy sauce
50ml rice wine vinegar
40g brown sugar
1 sprig of ginger, peeled and chopped
2 tbsp dried oregano
2 tbsp rosemary, chopped
3 garlic cloves
6 large tomatoes
method:
For the marinade, combine the soy sauce, rice vinegar, sauce, garlic and ginger in a large bowl. Then, add the dried oregano and rosemary. Slice the tomatoes so they are roughly 2cm in width, add into the marinade and leave to soak for a minimum of 30 minutes.
Place two frying pans onto the BBQ grill, add a drizzle of vegetable oil and bring to heat/ Add the chopped mushrooms into the first pan, then season to flavour. Gently stir for 5 minutes.
In the other pan, heat the oil and season the burgers. Leave to fry for 3-4 minutes, turning occasionally.
Toast your brioche buns directly onto the grill of the BBQ for one minute as this will create a barrier for the juicy marinade and stop them from going soggy.
To serve, place the burgers and tomatoes into the buns and season.
Print Recipe
www.meatlessfarm.com
Did you make this recipe?
Share your creations by tagging @livegreenandgood on Instagram with the hashtag #livegreenandgood