Soup for the Soul
Serves: 4
Ready in: 30 to 60 mins
My plant-based version of the classic chicken and lemon soup. Here, chickpeas provide the protein and give a deliciously thick and creamy texture. It will thicken in the fridge, so just warm it up and stir well, to serve. The lemon lends a refreshing lift, perfect for a chilly summer or early autumn evening. Simply Good For You by Amelia Freer is available to buy now from Waterstones.com (Michael Joseph, £22).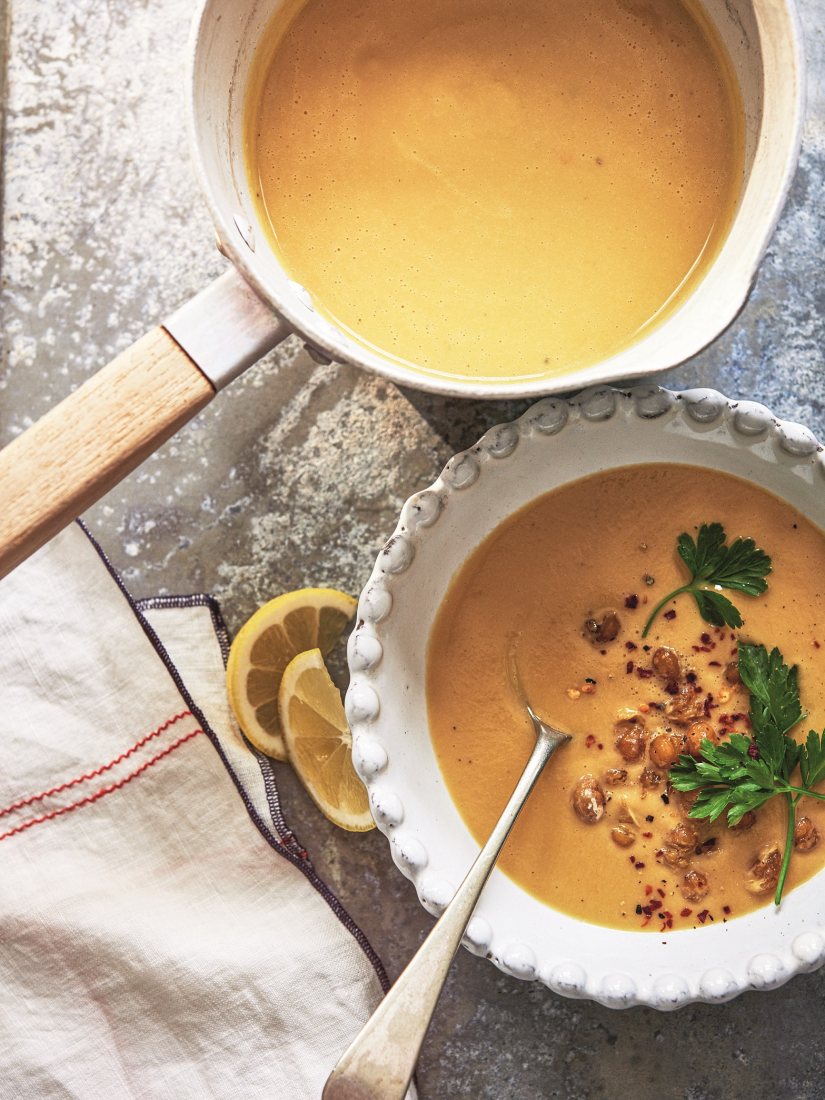 Ingredients:
1x 400g tin of chickpeas, drained and rinsed
olive oil
sea salt and freshly ground black pepper
1 onion, peeled and roughly chopped
1 garlic clove, peeled and roughly chopped
1 carrot, peeled and roughly chopped
1 litre vegetable stock
zest and juice of 1 lemon
To serve:
roasted chickpeas (optional)
a pinch of chilli flakes (optional)
chopped fresh parsley
method:
In a large non-stick saucepan, sauté the onions and garlic in about 1 tablespoon of olive oil for 10-15 minutes, until soft. Don't let them brown.
Add the carrots and cook for a further 5-10 minutes, stirring occasionally to prevent the vegetables catching. Add a little water if needed.
Add the chickpeas, mix well, then pour over the stock. Bring to the boil, then reduce to a simmer for 10 minutes.
Add the lemon zest and juice, and blend until smooth – either cool for 10-15 minutes and blend with a stick blender, or cool completely if using a blender or food processor.
Reheat gently or cool before serving as desired. Serve sprinkled with roasted chickpeas, chilli flakes, if using, and chopped parsley.
Print Recipe
www.waterstones.com/book/simply-good-for-you/amelia-freer/9780241414682
Did you make this recipe?
Share your creations by tagging @livegreenandgood on Instagram with the hashtag #livegreenandgood