Smokey Aubergine Dip with Toasted Flatbreads
Serves: 6
Ready in: Under 15 Mins
Cost Cutting Quick Make Vegan Friendly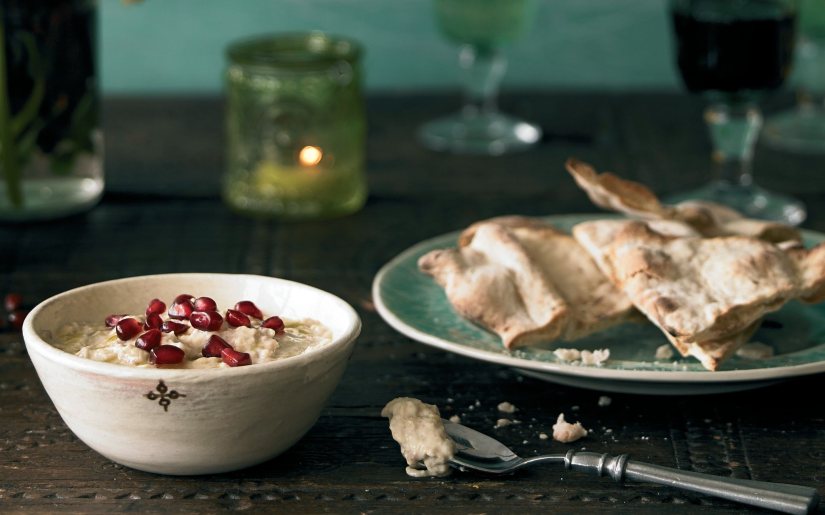 Ingredients:
1 large aubergine
juice of 1/2 lemon
2 tbsp tahini
1 small garlic clove, crushed
2 tbsp Yeo Valley Greek Style Yoghurt
sea salt
pomegranate and flatbreads
method:
Cook the aubergine directly over a gas flame, using tongs to turn it, until it is very soft and the skin is charred. Once it's cool enough to handle, wash the skin off under a tap.
While the aubergine is cooling, put the lemon juice, tahini, garlic, Yeo Valley Greek Style Yoghurt and salt in a bowl. Add the cooked aubergine and mash the flesh until it's broken down and everything is completely combined together. Taste and add a little more salt or lemon if necessary.
Cut the flatbreads into rough triangles, drizzle with a little olive oil and toast under a grill. Top the aubergine with pomegranate seeds and a drizzle of olive oil and serve with the crisp flatbreads.
Print Recipe
www.yeovalley.co.uk
Did you make this recipe?
Share your creations by tagging @livegreenandgood on Instagram with the hashtag #livegreenandgood