Senegalese Yassa Stew with Tenderstem broccoli
Serves: 6
Ready in: 30 to 60 mins
Food influencer Kellie's Food to Glow shared this Sengal-inspired Yassa stew; it's a delicious vegan take on a traditional dish that's packed with colourful, nutritious veg.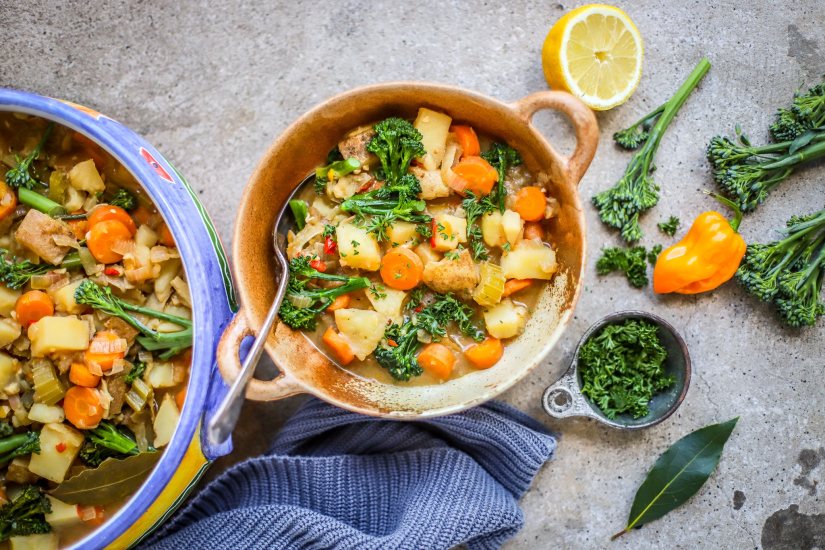 Ingredients:
2 tbsp olive oil
2 large onions, finely sliced
2 Scotch bonnet peppers, deseeded and minced
6 garlic cloves, minced
800g potatoes, scrubbed and cubed
350g carrots, scrubbed and sliced
2-3 stalks celery, sliced
2 bay leaves
1 tbsp Dijon mustard
freshly squeezed juice of 1 lemon
2-3 tbsp vinegar (same amount of vinegar as lemon juice)
1.5l hot vegetable stock
200g Tenderstem broccoli, rinsed and sliced
1-2 tbsp parsley, chopped, to garnish
method:
Add the oil to a saucepan, then sauté the onion and minced peppers until softened.
Add the garlic and cook for a couple of minutes before adding the potatoes, carrots, celery, bay leaves, mustard, lemon, vinegar and hot stock. Bring this all to the boil, then turn the heat down to a simmer. Cover the pan, and let the stew bubble gently, until the vegetables are soft and breaking down. The starch from the potatoes will thicken the stew nicely.
Next, add the Tenderstem broccoli, stirring it in. Let the broccoli cook in the residual heat for 2-3 minutes.
Serve with a sprinkle of parsley and extra vinegar if you like.
Print Recipe
www.tenderstem.co.uk/
Did you make this recipe?
Share your creations by tagging @livegreenandgood on Instagram with the hashtag #livegreenandgood