Purple aubergine, roast tomato & fenugreek curry
Serves: 4
Ready in: 30 to 60 mins
Fancy a fakeaway? This hearty vegan curry from Arun Kapil, founder of Irish spice company, Green Saffron, and author of Fresh Spice, will certainly hit the spot. Serve with a vegan raita (or just vegan yoghurt) and fresh naan bread or roti.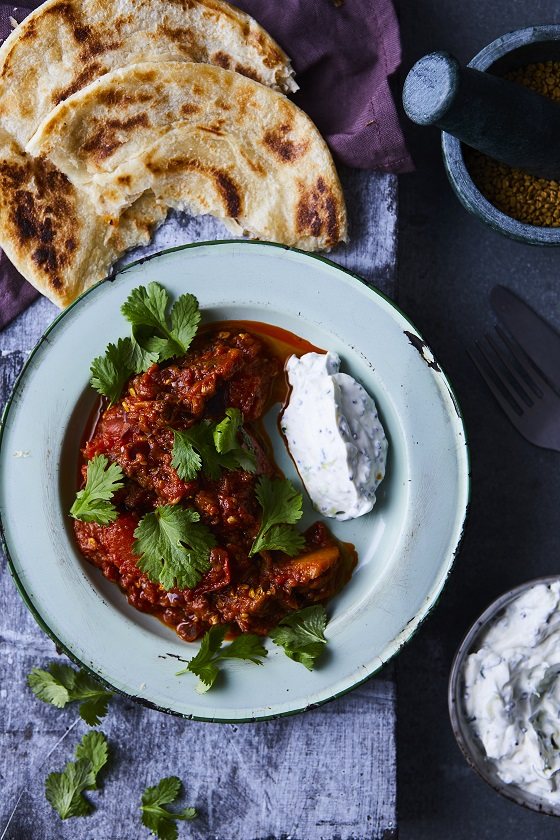 Ingredients:
10 vine tomatoes, halved and seasoned with a little salt and pepper
3 medium aubergines
50ml mustard oil (rapeseed is fine, too)
2 medium red onions, finely diced
6 garlic cloves, finely grated
30g ginger, finely grated
1⁄2 tsp fenugreek seeds, freshly ground
1⁄2 tsp black peppercorns, freshly ground
2 tsp sea salt
1 x 400ml tin chopped tomatoes
juice of 1 lemon
handful of fresh coriander, chopped
method:
Grill the tomatoes, cut-side-up, until slightly charred. Set aside.
Prick the aubergines all over, then place under a hot grill. Cook until well charred all over, about 20-30 minutes, then peel. Roughly chop the flesh to a chunky type texture. Discard the skin.
Heat the oil in a frying pan. Fry the onions until soft, then add the garlic, ginger, ground spices and salt, and stir. Add the tinned tomatoes, and cook until the mixture is reduced by one-third.
Add the aubergine pulp, lemon juice, and grilled tomatoes, stir and cook just enough to bring the flavours together and to warm the vegetables through, about 5-8 mins.
Add the coriander, and serve immediately with lemon raita and a hot grilled roti.
Print Recipe
www.greensaffron.com/
Did you make this recipe?
Share your creations by tagging @livegreenandgood on Instagram with the hashtag #livegreenandgood