Peanut Butter and Almond Truffles, sugar free
Serves: 4
Ready in: Under 15 Mins
Cost Cutting Eco Friendly Gluten Free‏ Quick Make
I came up with this recipe while experimenting with a sugar free diet. If you love dark bitter chocolate you will love these.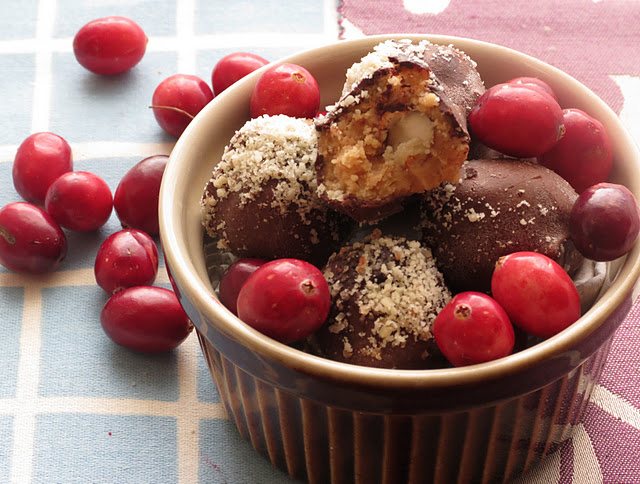 Ingredients:
1/4 cup of cocoa powder
3Tbsp of boiling water
1 tsp vanilla extract
a pinch/tablet/drop of stevia to sweeten lightly

Or instead of all the ingredients above just use a bar of unsweetened bakers chocolate

1/3 cup almonds (I pre-soak mine for about 5 hours or overnight in pure water)

3 Tbsp of unsweetened smooth peanut butter
3 Tbsp of ground almonds

method:
Mix cocoa powder, water, vanilla and stevia in a bowl and set aside. Or, if using bakers chocolate, or, if you are not quite so bothered about sugar intake, regular dark chocolate, melt it in a bowl over a pot of boiling water or in a microwave.
In a separate bowl mix peanut butter and ground almonds
Now take one almond and about 1/2 tsp of peanut butter mix and roll it around the almond. It may sound complicated, but it is super easy as the peanut butter mix is very pliable. Then dip it in chocolate/cocoa mix and put on a (preferably cold) plate. Repeat with the rest of the almonds. Then put in the fridge for a couple of hours. To make the chocolate coating extra crispy put in the freezer for about 15 minutes before serving.
Print Recipe
Did you make this recipe?
Share your creations by tagging @livegreenandgood on Instagram with the hashtag #livegreenandgood