Pasta Al Forno
Serves: 2
Ready in: 30 to 60 mins
This hearty pasta dish is perfect for when you're in a rush as it can be made quickly in simple steps. It's also an easy way to get plenty of veg into the family - win win!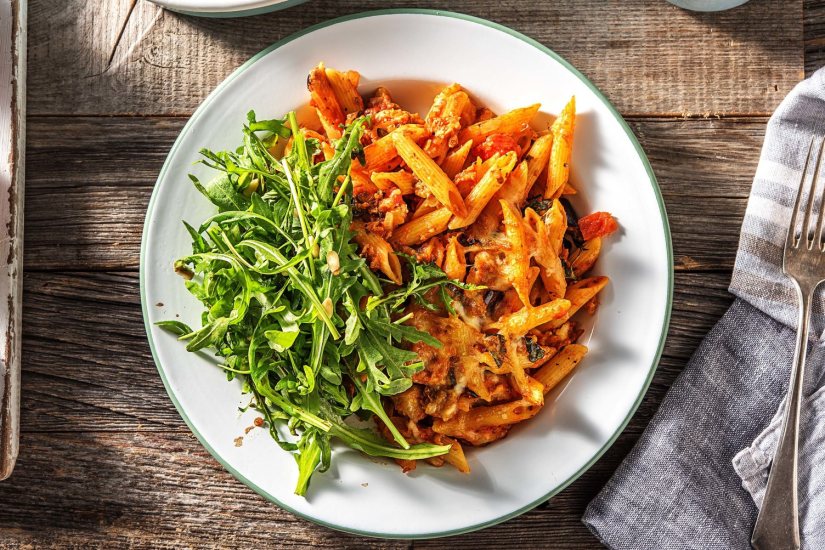 Ingredients:
1 aubergine, cubed
1 onion, peeled and finely chopped
1 tbsp olive oil
2 garlic cloves, peeled and grated
1 tin chopped tomatoes
½ tbsp dried oregano
30g black olives, roughly chopped
200g penne pasta
20g fresh basil
1 ball mozzarella, torn into pieces
30g Cheddar cheese, grated
method:
Preheat the oven to 200C/400F/Gas 6. Chop the aubergine into 2cm cubes and drizzle with oil. Add a pinch of salt and pepper to taste, and then toss it onto a baking tray.
Roast the aubergine on the middle shelf of the oven for 20 minutes, or until soft. Turn halfway, until all sides appear golden and slightly crispy at the edges.
Heat the oil in a frying pan on a medium-low heat and add the onion. Cook for 3-4 minutes, until softened, before adding the garlic, and cook for one minute. Stir in the chopped tomatoes, dried oregano and olives. Bring to the boil and simmer for 15 minutes
Boil a large saucepan of water with a pinch of salt. Add the penne to the boiling water and cook for 10 minutes, or until 'al dente'.
Remove the aubergine from the oven, slice, and gently stir into the tomato sauce.
Drain the cooked pasta in a colander and add to the tomato sauce. Add the torn-up sprigs of basil and pieces of mozzarella before stirring. Pour the whole mixture into an ovenproof dish and scatter over the Cheddar cheese. Add to the top shelf of your oven and cook for 5-10 minutes, until the cheese appears golden and bubbly. Serve with a side salad.
Print Recipe
www,hellofresh.com
Did you make this recipe?
Share your creations by tagging @livegreenandgood on Instagram with the hashtag #livegreenandgood