Mexican Baked Wedges and Corn with Eggs and Avocado Salsa
Serves: 4
Ready in: 30 to 60 mins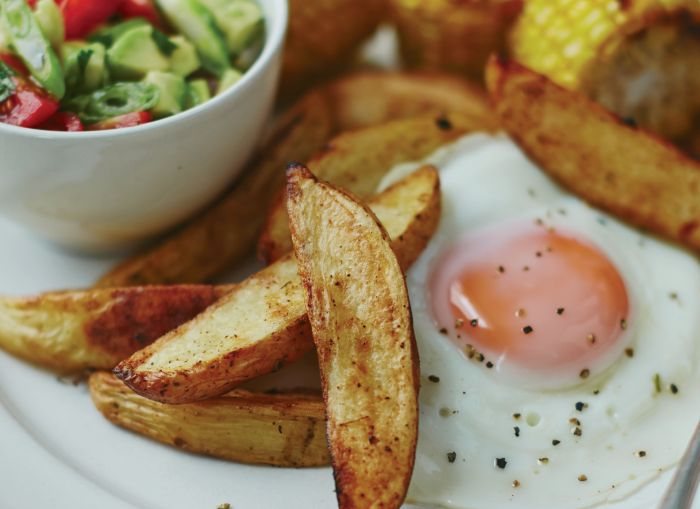 Ingredients:
750g Maris Piper potatoes
1/2 tsp mild chilli powder
1/2 tsp ground cumin
1 tsp garlic salt
1 tbsp olive oil
2 corn on the cob
spray oil, if frying eggs not poaching
4 free-range eggs
splash of white wine vinegar

[hd]For the salsa[/hd]
1 ripe avocado
juice of 1/2 lime
1 tbsp coriander, chopped
2 spring onions, chopped
6 cherry tomatoes, quartered
1/2 tbsp olive oil
method:
Preheat the oven to 200C/400F/Gas 6. Put the chilli powder, cumin, garlic salt and the 1 tbsp of oil in a large bowl.
While waiting for the oven to heat, cut the potatoes into even size wedges and each piece of corn into four.
Toss the wedges and corn in the spice mixture and transfer into a roasting tray, and then the oven for 30 minutes, turning occasionally.
While waiting for the wedges to cook peel, stone and dice the avocado, chop the spring onion, coriander and quarter the tomatoes. Gently mix together with the lime juice and season to taste. Around five minutes before the potatoes and corn are ready, boil a pan of water and drop the eggs gently into it poaching to your liking, or spray a pan with a light cooking spray and fry.
Serve the wedges and corn on plates, topping with the eggs. Add a sprinkle of white wine vinegar and the side of salsa.
Print Recipe
www.lovepotatoes.co.uk
Did you make this recipe?
Share your creations by tagging @livegreenandgood on Instagram with the hashtag #livegreenandgood