Irresistibly Cheesy Pasta Bake
Serves: 4
Ready in: 15 to 30 mins
Know your nutrients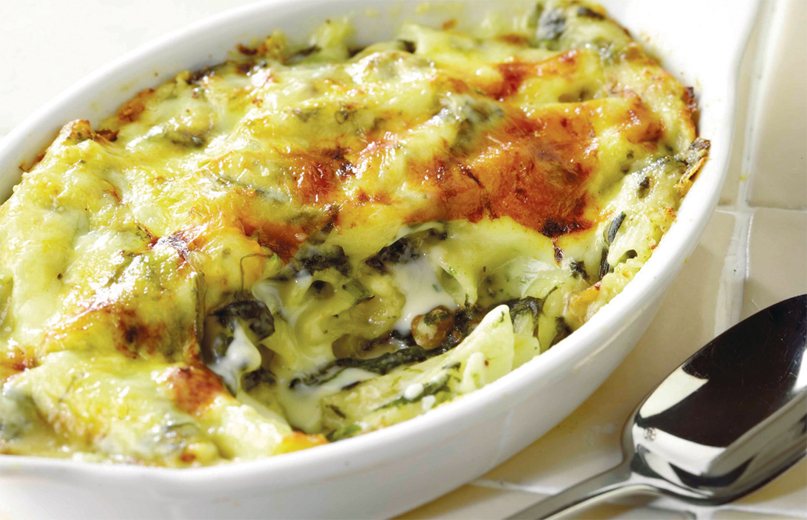 Ingredients:
300g penne pasta
500g semi-skimmed milk
3 tablespoons cornflour
130g Cathedral City Mature Lighter Grated
A grating of nutmeg (optional)
Salt and pepper
200g spinach, washed
50g walnut kernels, broken into pieces
50g Cathedral City Mature Lighter cheese (for topping)
method:
Bring a saucepan full of salted water to the boil. Add in the pasta and boil until tender.
Heat the milk in a non-stick milk pan until tiny bubbles form around the edges. Place the cornflour into a small dish and pour over 5 tablespoons of the hot milk. Mix together to form a paste then return it to the milk pan.
Over a low heat stir the milk until it starts to thicken. It will get lumpy as it thickens but it will eventually smooth out. Add the cheese, salt, pepper and nutmeg to taste.
In a separate pan wilt the spinach and then strain all of the liquid out of it.
Strain the pasta, then stir through the cheese sauce. Add the spinach and walnuts and top with the rest of the Cathedral City Mature Lighter.
Place under a hot grill for 5 minutes or until the cheese has melted and gone slightly golden.
Print Recipe
www.cathedralcity.co.uk
Did you make this recipe?
Share your creations by tagging @livegreenandgood on Instagram with the hashtag #livegreenandgood