Huevos Rancheros
Serves: 2
Ready in: Under 15 Mins
Eco Friendly Gluten Free‏ Quick Make
Bring some spice to the breakfast table with this Mexican-style classic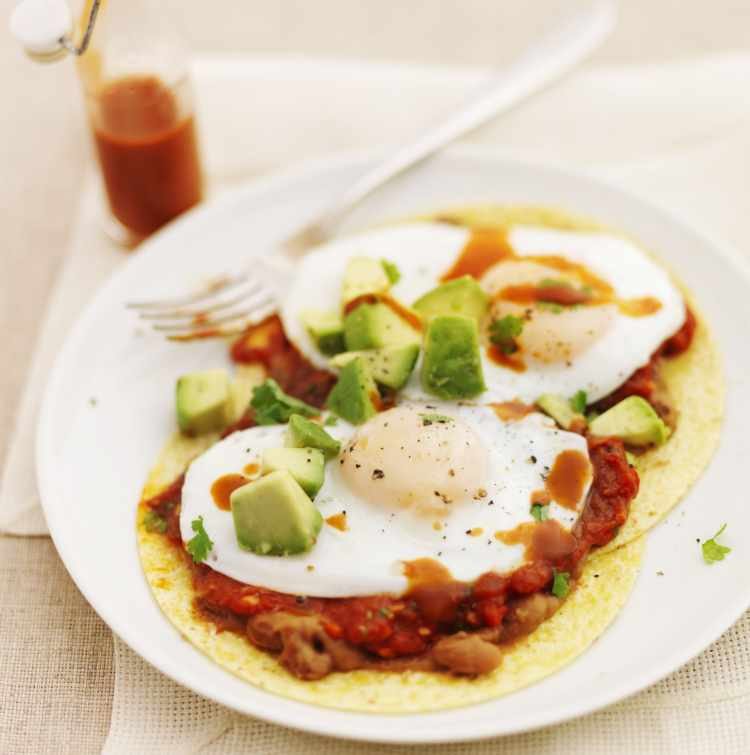 Ingredients:
1 tbsp olive oil
4 garlic cloves, finely chopped
1 red chilli, finely chopped
400g can chopped tomatoes
1 tbsp tomato purée
a splash of red wine vinegar
a good handful of fresh coriander, chopped
sea salt and freshly ground black pepper
200g can refried beans
4 small corn tortillas
2-3 tbsp light olive or vegetable oil
4 large British Lion free-range eggs
1 avocado, finely chopped
chilli sauce to serve
method:
Heat the oil in a small frying pan and stir fry the garlic and chilli for a minute or until the garlic starts to soften and turn golden. Add the tomatoes, purée, red wine vinegar and half of the coriander and over a medium high heat, cook for nine minutes and then season to taste.
Heat up the refried beans in a small saucepan. Heat a frying pan and toast the corn tortillas for 20-30 seconds on each side and lay two on each plate. Put the oil in the pan and fry the eggs for 1-2 minutes.
Spread a spoonful of the refried beans on the two tortillas, then dollop two spoons of the tomato sauce on top. Top each plate with two fried eggs, some avocado and the rest of the coriander. Finish with a drizzle of chilli sauce.
Print Recipe
www.eggrecipes.co.uk
Did you make this recipe?
Share your creations by tagging @livegreenandgood on Instagram with the hashtag #livegreenandgood