Halloumi Bruschetta Teriyaki-style
Serves: 4
Ready in: 15 to 30 mins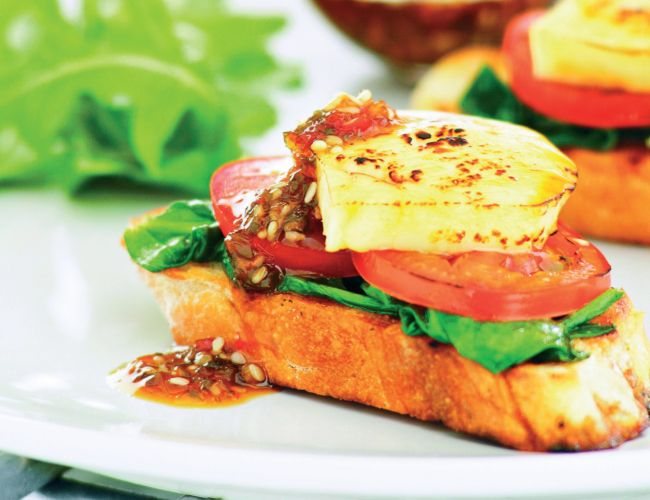 Ingredients:
8 tbsp Kikkoman Teriyaki Marinade
250g vegetarian halloumi cheese, cut into 1cm slices
8 slices ciabatta bread
1 garlic clove
100g raw spinach
4 tomatoes, sliced and seasoned with black pepper
3 chilli jam, to serve (optional)
method:
Pour the marinade into a shallow dish, completely immerse the halloumi slices and leave to stand for 30 minutes, allowing all the flavours to infuse the halloumi cheese.
Rub olive oil into the ciabatta and griddle in a hot pan or grill until lightly toasted. Remove the ciabatta from the heat and rub each slice with the raw garlic clove.
In another pan, heat a teaspoon of olive oil, add the spinach and cook until it starts to wilt, then remove from the heat.
To make the bruschetta, top each slice of the toasted ciabatta with the wilted spinach followed by two slices of tomato, and finally a slice of the marinated halloumi. Place on a baking tray in a preheated oven at 170C/325F/Gas 3 and cook for 5-7 minutes, or until the cheese starts to melt. Serve with a dollop of chilli jam.
Print Recipe
Did you make this recipe?
Share your creations by tagging @livegreenandgood on Instagram with the hashtag #livegreenandgood