Halloumi and British Tomato Toasts with Mint Pesto
Serves: 2
Ready in: 15 to 30 mins
Enjoy char-grilled sourdough, topped with grilled halloumi and sliced British tomatoes, given a fresh twist with quick-to-make mint pesto.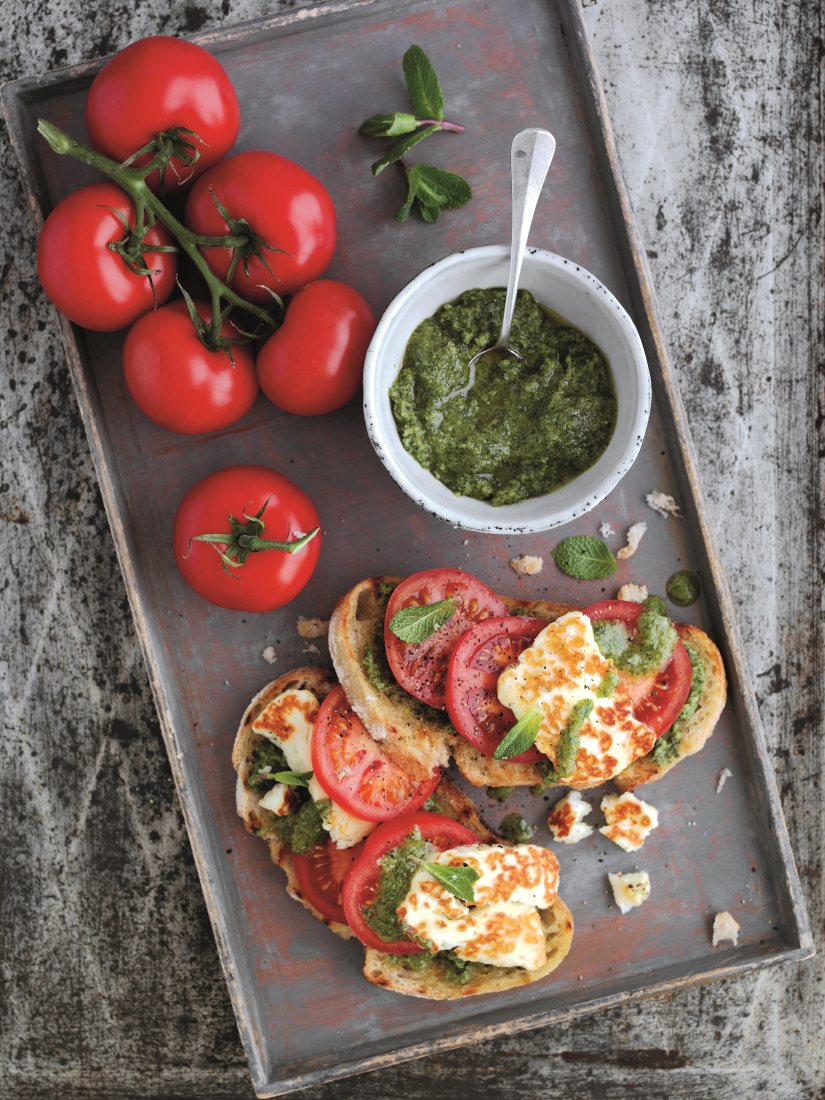 Ingredients:
4 slices sourdough bread
2tbsp olive oil
150g Halloumi cheese, sliced
4 large British vine tomatoes, sliced For the Mint pesto:
Small bunch of mint
5tbsp olive oil
1tsp white wine vinegar
50g ground almonds
Salt and freshly ground black pepper
method:
First, make the mint pesto. Pick the mint leaves from the stalks and put them into a small blender with the olive oil, vinegar and a splash of water. Blitz together for a few moments. Add the ground almonds and blend for a few more seconds. Season with a little salt and pepper.
Brush the slices of sourdough with olive oil, then char-grill or grill until lightly browned.
At the same time, dry-fry the slices of halloumi in a frying pan, turning them over once and cooking until golden brown.
Arrange the slices of sourdough on two serving plates. Spread with mint pesto, then add the sliced tomatoes and Halloumi cheese. Serve, drizzled with a little more pesto sauce
Print Recipe
Recipe courtesy of The British Tomato Growers' Association. British Tomato Fortnight runs from 20th May - 2nd June 2019.
Did you make this recipe?
Share your creations by tagging @livegreenandgood on Instagram with the hashtag #livegreenandgood