Cabbage, Carrot and Green Bean Thoran
Serves: 4
Ready in: Under 15 Mins
Know your nutrients
Author and chef Anjula Devi shares her delicious recipe for thoran, which is perfect for summer. Traditionally served in Kerala, thoran is like a dry curry that's typically served as a side dish, perhaps alongside a bowl of steamed rice. It uses fresh vegetables that are lightly stir-fried with fragrant spices like turmeric, cumin seeds, black mustard seeds and chilli.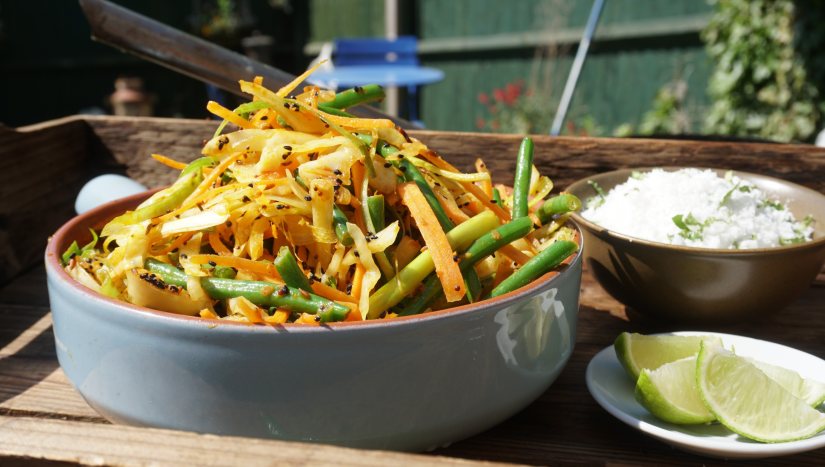 Ingredients:
1 tbsp coconut oil
1 tsp black mustard seeds
8 fresh curry leaves
3 fresh green chillies, slit lengthways
8g ginger, grated
4 spring onions, sliced lengthways
½ tsp ground turmeric
½ tsp ground cumin seeds
200g blanched green beans (see footnote)
1 small green cabbage, finely sliced
2 large carrots, shredded
salt, to taste
small handful of fresh coriander, roughly chopped
50g fresh or frozen coconut, grated
lime wedges, to serve
method:
In a large wok, heat the oil over a medium-high heat. Add the black mustard seeds and reduce the heat to low. Add the curry leaves and stir-fry until you can smell the aromas (about 30 seconds).
Add the fresh green chillies and ginger, frying for 30 seconds. Add the spring onions, turn the heat up high and stir-fry for just 50 seconds.
Add the turmeric and cumin seeds and stir-fry for 30 seconds, ensuring you don't burn the spices.
Add the blanched green beans and stir-fry for one minute, then add the shredded cabbage and carrots. Stir-fry for another minute, then add salt to taste. Switch off the heat, and add the fresh coriander. Top with the grated coconut and a wedge of lime, to serve.
Note: you only need to the blanch the green beans for one minute in boiling hot water, with a little salt. To maintain the vibrant colour of the beans, simply rinse them under a cold tap to stop them from cooking further.
Print Recipe
anjuladevi.com/
Did you make this recipe?
Share your creations by tagging @livegreenandgood on Instagram with the hashtag #livegreenandgood