BBQ Sweetcorn Tacos with Sriracha Mayonnaise
Serves: 4
Ready in: 15 to 30 mins
Fire up that barbecue, and enjoy these delicious tacos in great company!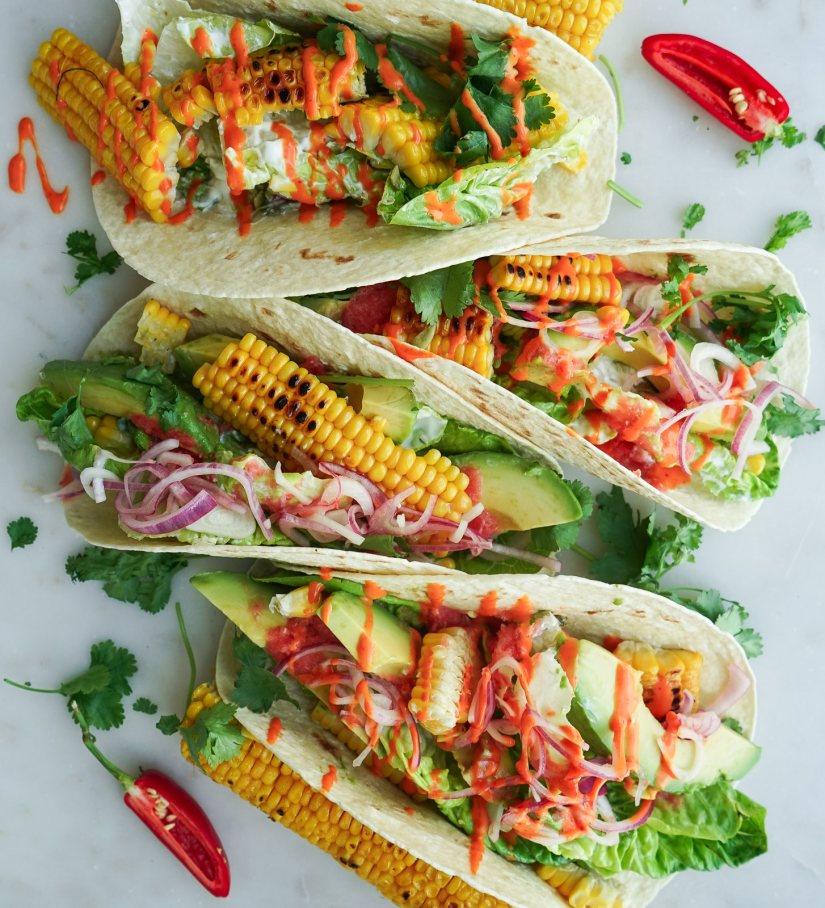 Ingredients:
For the corn:
2 sweetcorn cobs
olive oil
chilli flakes
a pinch of Maldon sea salt

For the mayonnaise:
3 tbsp plant-based or normal mayonnaise
2 tbsp sriracha
1 tbsp plant yoghurt
a squeeze of lemon juice
a pinch of cayenne pepper

For the filling:
2-4 soft tortillas
1 ripe avocado, sliced
2 baby gem lettuces
30g fresh coriander

For the quick pickled red onion:
1 red onion, thinly sliced
1 tbsp sugar
3 tbsp apple cider vinegar
method:
For the quick pickled onion, marinate the onion slices in sugar and apple cider vinegar. Don't be afraid of the sugar here as you are just marinating them quickly. Once done, set aside.
For the mayonnaise, simply mix all of the mayonnaise ingredients together and set aside until assembly.
Cover the corn in olive oil. Sprinkle on salt and chilli flakes, and put the cobs on the barbecue until nicely charred. Once done, set aside.
Put your tortillas in the oven, on the grill mode, until nice and hot. Once they are warm, add baby gem lettuce, sliced avocado, and the charred corn. I find that the best way to get the corn off the cobs is to slice the corn from the sides by holding the cob tightly and slicing downwards. Add those big corn chunks to your tortillas and dollop over mayonnaise, pickled red onion and some fresh coriander. This is a super-quick and easy meal, but it's so satisfying on all levels.
Print Recipe
www.bettinaskitchen.com/
Did you make this recipe?
Share your creations by tagging @livegreenandgood on Instagram with the hashtag #livegreenandgood