Arequipa Avocado Salad
Serves: 6
Ready in: 30 to 60 mins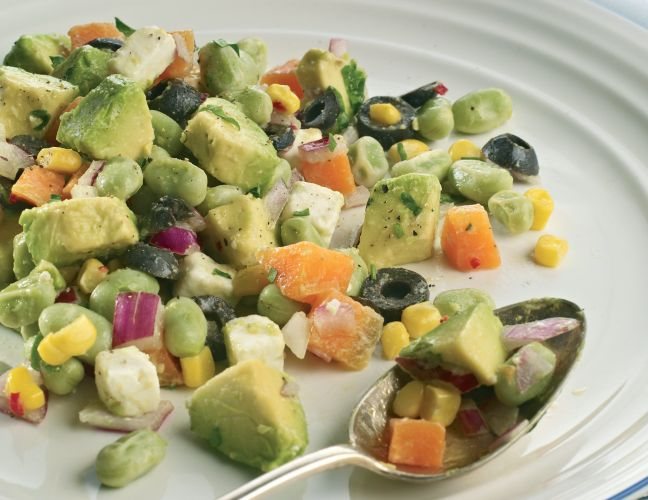 Ingredients:
1 ripe Hass avocado
1 large carrot, peeled and cubed
300g vegetarian feta cheese
500g broad beans
2 red onions
2 Choclo Peruvian giant kernel corn
(or 2 normal sweetcorn cobs)
1 aji amarillo chilli (or mild red chilli), finely chopped
150g black olives, stone removed
juice of 2 limes
pinch of salt and pepper
1 tsp olive oil
3 parsley sprigs, leaves finely chopped
method:
Boil the corn for 10 minutes then add the broad beans and carrot and boil for a further 10 minutes. Remove from the heat and, when the cobs have cooled slightly, take the kernels off the corn by slicing downwards with a sharp knife.
Chop the onions, avocado and feta cheese into cubes and slice the olives into rounds.
In a separate small bowl mix the olive oil, lime juice and salt and pepper and add the finely chopped chilli and parsley.
Mix this marinade into the rest of the salad ingredients in a large bowl or plate. Chill for 10 minutes before serving. Delicioso!
Print Recipe
www.deliciousavocados.co.uk
Did you make this recipe?
Share your creations by tagging @livegreenandgood on Instagram with the hashtag #livegreenandgood