Walnut, Chocolate and Plum Upside-Down Cake
Serves: 12
Between the sweet plums, creamy chocolate and melt-in-the-mouth sponge, this gorgeous cake is too good to pass up.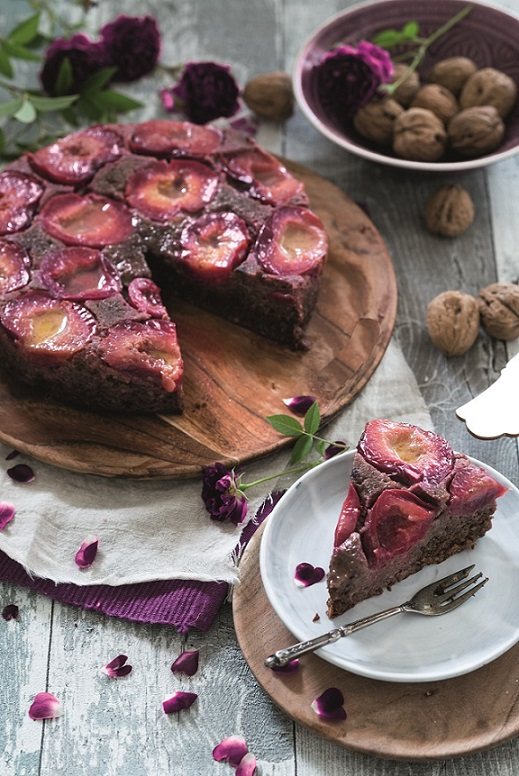 Ingredients:
250g butter
100g brown sugar
6-8 plums, pitted and halved
6 free-range egg whites
pinch of salt
100g dark chocolate
225g caster sugar
6 free-range egg yolks
150g flour
1 tsp baking powder
2 tsp cocao powder
400g California walnuts, finely ground
method:
Preheat the oven to 180C/160F/Gas 4. In a small pan, melt 100g of the butter together with the brown sugar, stirring until the mixture is smooth and creamy.
Pour the mixture into a cake tin, and spread the plums upside down over the mixture.
Add a pinch of salt to the egg whites, beat until stiff, then place in the fridge. Melt the chocolate in a small bowl over a pan of hot water. Beat the remaining butter with the caster sugar and egg yolks, then add the mixture to the melted chocolate.
Mix the flour, baking powder, cocoa powder and walnuts together, then add the chocolate and egg yolk mixture, stirring until fully combined. Carefully fold in the egg whites. Spread the mixture over the plums and bake for 45 minutes.
Remove from the oven and allow to cool, then turn upside down on a plate and serve.
Print Recipe
californiawalnuts.uk/
Did you make this recipe?
Share your creations by tagging @livegreenandgood on Instagram with the hashtag #livegreenandgood