Veggie Wellington
Serves: 6
Ready in: 60 mins +
"This is admittedly a bit time-consuming and a little fiddly, but the effort is worth it for that classic Wellington look, with a pink centre, surrounded by mushroom pâté and a crisp, buttery puff pastry casing." Great British Vegan by Aimee Ryan of Wallflower Kitchen is published on 5th January, 2021. White Lion Publishing, £20.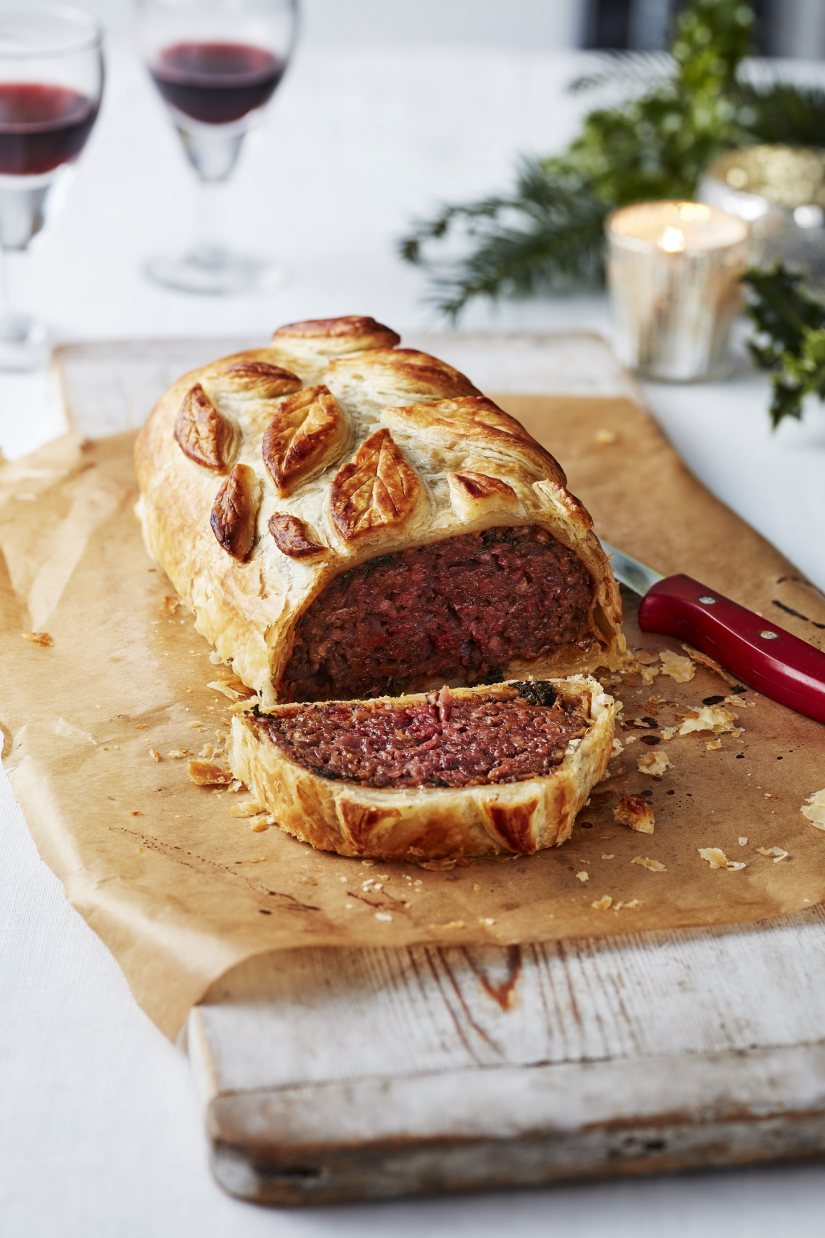 Ingredients:
1 x 320g sheet of vegan puff pastry
4 tbsp aquafaba or unsweetened dairy-free milk, for glazing
For the pâté:
1 tbsp dairy-free butter, plus extra for greasing
1 onion, finely diced
250g chestnut (cremini) mushrooms, finely chopped
1 tsp miso paste
1 tbsp balsamic extract
1 large handful spinach or kale, washed and chopped
100g walnuts
For the filling:
1 tbsp vegetable oil
1 onion, finely diced
2 garlic cloves, crushed
1 tbsp balsamic vinegar
1 tsp yeast extract
120g shiitake or chestnut (cremini) mushrooms, finely chopped
1 small cooked beetroot, roughly chopped
2 tsp dried mixed herbs
1 x 400g tin kidney beans, drained and rinsed
125g cooked rice
40g porridge oats
4–6 tbsp plain (all-purpose) flour
sea salt and ground black pepper
method:
Make the pâté. Melt the butter in a medium saucepan over a medium heat and fry the onion and mushrooms for five minutes, until softened. Add the miso paste and vinegar and cook for a further five minutes, until everything is dark and sticky. Stir in the spinach and leave to wilt. Remove from the heat and put in a food processor along with the walnuts. Blitz to a smooth pâté.
Preheat the oven to 220C/425F/Gas 7 and grease a roasting tray with butter.
Next make the filling. Heat the oil in a large saucepan over a medium heat and fry the onion and garlic for five minutes, until softened. Add the balsamic vinegar, yeast extract and mushrooms then cook for a further eight minutes, until brown and sticky. Mix with the rest of the ingredients, season and use a masher to combine everything together into a thick, chunky mixture. You can also pulse in a food processor. Shape the filling into a large log shape, the length of the short side of the pastry sheet.
Unroll the pastry and spread over a thick layer of the pâté, the width of the log. Place the log on top and cover it with the rest of the pâté. Don't worry if it looks messy!
Gently pull the puff pastry up and around the log, tucking in the edges of the pastry as you go so it is completely covered. Seal the two ends together with aquafaba or milk, then turn the Wellington over so that the seal is hidden underneath. Brush the whole log with aquafaba or milk to glaze and use any excess pastry to decorate the top and glaze that too. Bake for 25 minutes until, puffed and golden.
Allow to cool slightly before cutting into 2.5cm-thick slices to serve.
Print Recipe
wallflowerkitchen.com/
Did you make this recipe?
Share your creations by tagging @livegreenandgood on Instagram with the hashtag #livegreenandgood