Vegan Smoked Tofu
Serves: 2
Ready in: Under 15 Mins
This is a great low-carb dinner with a spicy kick! The courgetti noodles are full of fibre; the hot oil dressing is super-tasty; and the black rice vinegar provides a nice tangy-sour flavour. Children prefer courgetti hot and blanched, but you may prefer it uncooked – it's up to you.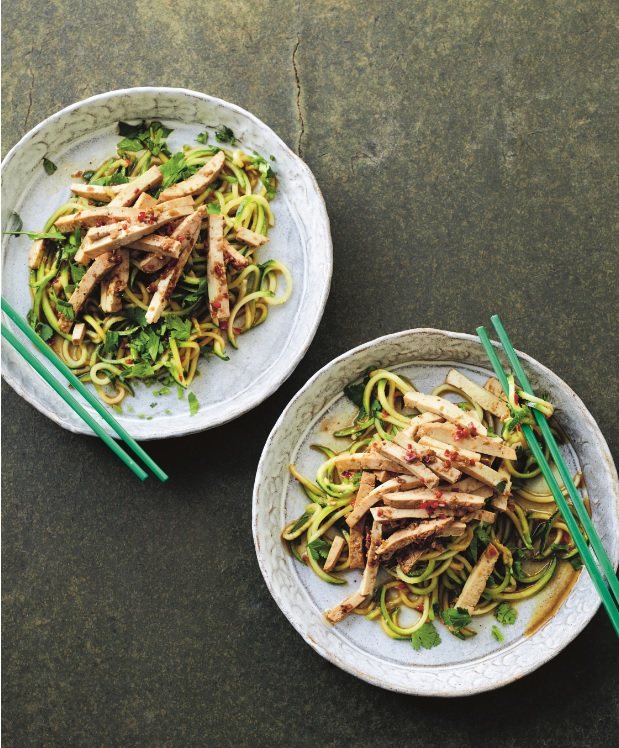 Ingredients:
2 large courgettes, cut thinly lengthways to make the noodles
100g smoked tofu, cut into julienne strips
For the fragrant hot oil dressing:
1 tbsp rapeseed oil
1 garlic clove, finely chopped
2.5cm fresh ginger, peeled and grated
1 red chilli, deseeded and finely chopped
1 tbsp tamari, or low-salt soy sauce
1 tbsp Chinkiang black rice vinegar, or balsamic vinegar
½ tbsp toasted sesame oil
1 tbsp Sichuan chilli oil
pinch of ground toasted Sichuan peppercorns
pinch of cracked salt
a handful of chopped coriander
method:
Pour 500ml water into a medium pan and bring to the boil. Keep on a gentle simmer while you make the dressing.
Heat a wok over a high heat until smoking, then add the oil, and give it a swirl. Add the garlic, ginger and chilli, and toss for a few seconds. Stir in the rest of the ingredients, then set aside to keep hot.
Toss the courgette strips into the simmering water for 20 seconds to soften. Lift the noodles out, then drain and add them to the wok with the smoked tofu. Toss it all together well to heat through, then eat immediately
Print Recipe
www.octopus.co.uk
Did you make this recipe?
Share your creations by tagging @livegreenandgood on Instagram with the hashtag #livegreenandgood