Vegan Sausage Pasta
Serves: 4
Ready in: 15 to 30 mins
Eco Friendly Quick Make Vegan Friendly
This quick and simple midweek hero! The cherry tomatoes are roasted with garlic until they pop and blister, for a lovely intensified flavour that's lighter and fresher-tasting than a classic tomato sauce.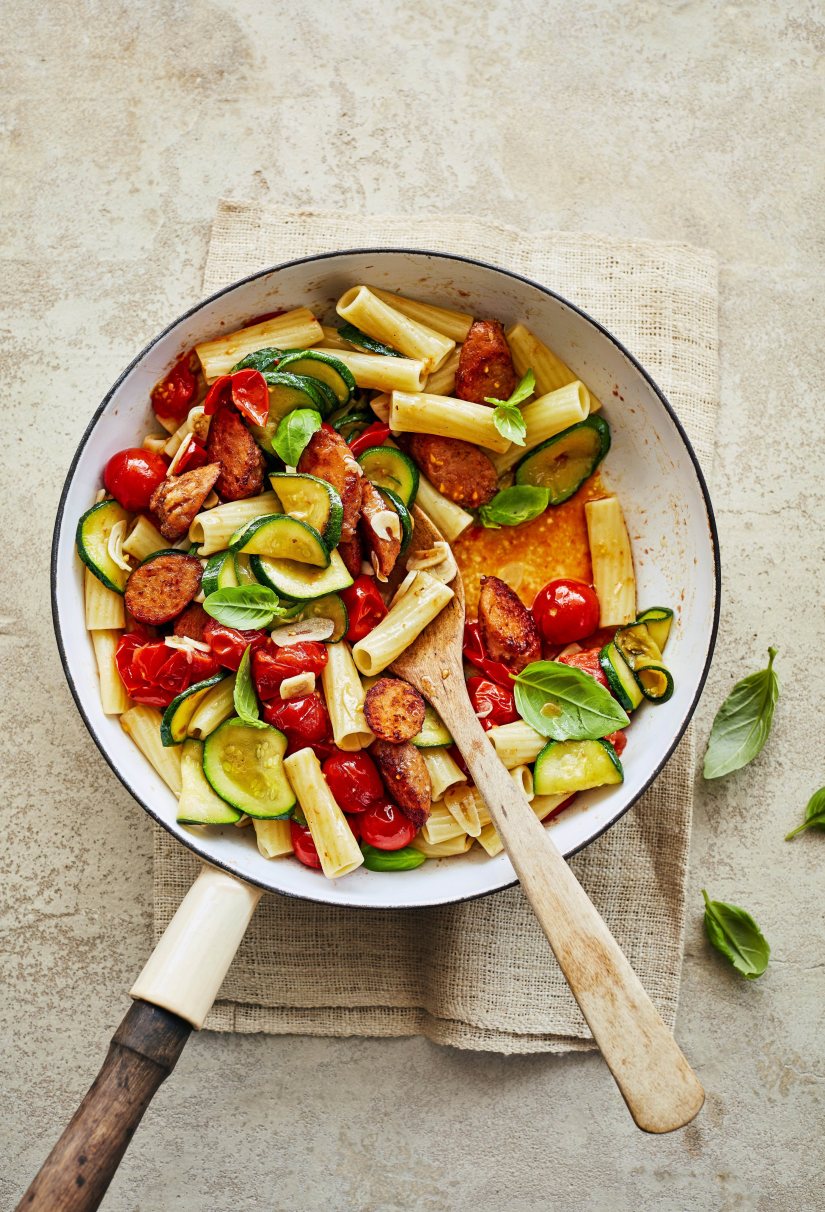 Ingredients:
400g cherry tomatoes
4 garlic cloves, sliced
3 tbsp olive oil
5 Linda McCartney Vegetarian Sausages
2 courgettes, trimmed and sliced
a pinch of salt
300g elicoidali pasta tubes
a handful of basil leaves
method:
Preheat the oven to 200C/400F/Gas 6. Toss the tomatoes, garlic and two tablespoons of oil in a roasting tin, and season.
Remove the packaging and film from the sausages but leave in the foil tray. Put the roasting tin and foil tray in the oven for 15 minutes, giving each one a toss halfway through.
Heat the remaining one tablespoon of oil in a large, non-stick frying pan and fry the courgettes with a pinch of salt for about eight minutes, turning regularly until golden. In a separate pan of boiling water, simmer the pasta for 10-12 minutes then drain, reserving a cup of pasta water.
Remove the courgettes from the frying pan and set aside on a plate. Slice the sausages and add to the pan, frying for a couple of minutes. Tip in the pasta, tomatoes, any roasting juices, 2-3 tablespoons of pasta water and the courgettes. Toss together briefly and serve, scattered with basil leaves.
Print Recipe
www.waitrose.com/recipes
Did you make this recipe?
Share your creations by tagging @livegreenandgood on Instagram with the hashtag #livegreenandgood