Vegan Chocolate Fudge Cupcakes
Serves: 8
Ready in: 60 mins +
Vegan-friendly and gluten-free, these fudge cupcakes are easy to make, and are ideal as an afternoon treat or to serve guests with tea!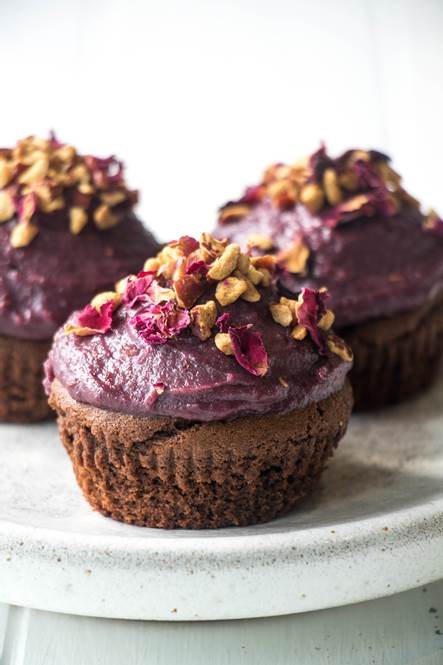 Ingredients:
1 ripe banana
100g coconut sugar
100g buckwheat flour
100g vegan butter
2 tbsp cacao powder
1 tsp baking powder
1/3 tsp bicarb
a pinch of salt
For the frosting:
150g cashews
100g frozen mixed berries, thawed
60g soaked jujube fruit (soaked in boiled water for 20 minutes)
2 tbsp agave syrup
jujube sprinkles to garnish
method:
Preheat your oven to 180C/350F/Gas 4 and line a cupcake tray with cupcake cases.
In a food processor, combine the banana, coconut sugar and vegan butter, and cream these together.
Add in all of your dry ingredients and blend until everything is well combined and forms a smooth cake batter. Divide this amongst your cupcake cases (the mixture should make around 6-7 cakes) and pop these into the oven for around 30 minutes to bake. You'll know the cakes are done when a skewer can be pierced into the cake and comes out clean.
Transfer the cakes onto a wire wrack and allow them to cool completely. Meanwhile, to prepare your frosting, add the nuts, berries, drained jujube fruits and agave to a food processor and blitz everything until you're left with a smooth, creamy frosting. This might take a while to achieve a really smooth consistency.
When your cakes have thoroughly cooled, top each of them with some of your frosting and garnish with dried jujube sprinkles.
Print Recipe
www.abakusfoods.com/
Did you make this recipe?
Share your creations by tagging @livegreenandgood on Instagram with the hashtag #livegreenandgood