Tomato Roasted Squash and Pilau Rice Salad
Serves: 4
Ready in: 60 mins +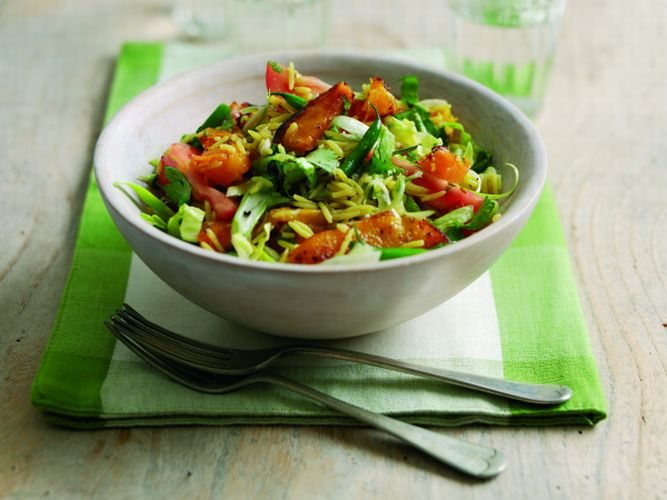 Ingredients:
1 butternut squash, peeled and chopped into 8-10 long slices
4 tbsp olive oil
4 medium tomatoes, sliced into wedges
120g cooked green beans, chopped into 4cm sticks
1/2 iceberg lettuce, finely sliced
4 spring onions, chopped into long shards
250g packet Aldi microwavable
pilau rice, warmed

[hd]For the dressing[/hd]
4 tbsp white wine vinegar
1 tbsp granulated sugar
juice of 2 large limes
1 tsp coarse ground black pepper
4 tbsp extra virgin olive oil
2 bunches of coriander, roughly chopped
method:
Preheat the oven to 200C/400F/Gas 6. Place the sliced squash into a baking tray, then add the oil, season and mix well. Bake in the oven until lightly browned and cooked through.
Meanwhile, place the tomatoes, cooked beans and iceberg lettuce in a deep bowl; mix carefully, but well. Remove the cooked squash from the oven and cool slightly, then slice into long pieces and leave to cool completely.
Add the cold cooked squash to the tomatoes, beans and lettuce along with the prepared pilau rice. Spoon over the vinegar, sugar, lime juice, pepper, oil and coriander and mix well, but taking care not to smash anything.
Print Recipe
www.aldi.co.uk
Did you make this recipe?
Share your creations by tagging @livegreenandgood on Instagram with the hashtag #livegreenandgood