Tomato, Mozzarella and Basil Ciabatta Sandwich
Serves: 4
Ready in: 30 to 60 mins
Know your nutrients
If you don't have a breadmaker, you can knead this dough by hand, but beware – it's sticky! For a quick lunch, buy a ready-to-bake ciabatta loaf instead.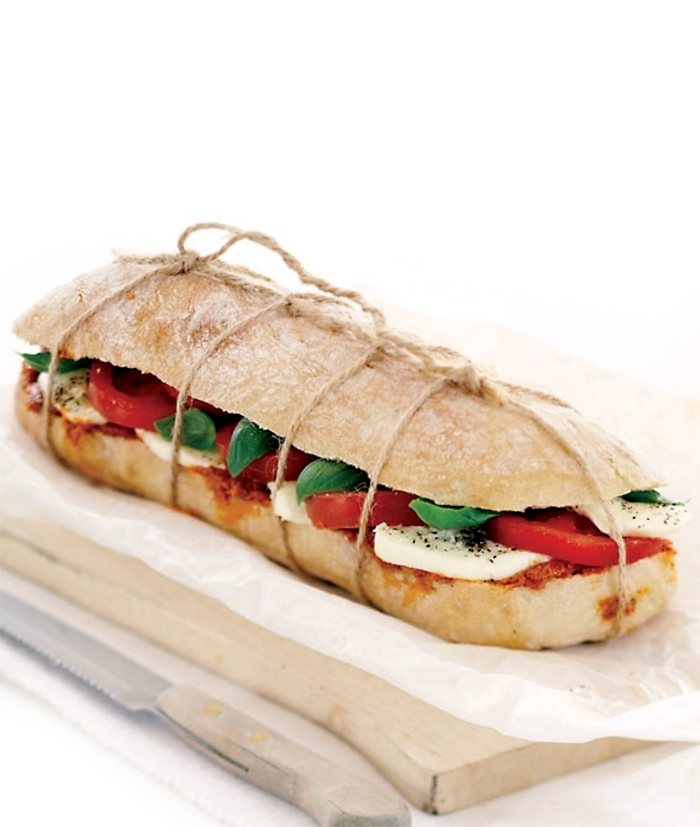 Ingredients:
For the ciabatta:
1 tsp Allinson Easy-Bake Dried Yeast
500g Allinson Extra Strong White Bread Flour plus extra for dusting
1 ½ tsp salt
1 tsp Billington's Golden Caster Sugar
2 tbsp olive oil
325ml water
For the filling:
4 tbsp sundried tomato paste
200g packet mozzarella, sliced
2 large or 4 smaller tomatoes, sliced
12 fresh basil leaves
method:
Put the yeast, flour, salt, sugar, olive oil and water into the breadmaker following the order specified in the manual. Start the dough programme, then oil a baking sheet and sprinkle with flour.
Once the dough is ready, put it onto a well floured board and cut in half using a floured knife. Shape each piece of dough to a strip, then pass it from one hand to the other until it is stretched to about 28cm (11 inches) long. Put onto the prepared baking sheet. Repeat with other piece and put well apart on the baking sheet.
Cover with greased cling film and leave in a warm place for 30 minutes until doubled in size. Preheat the oven to 220C/430F/Gas Mark 7.
Sprinkle loaves with a dusting of flour, then bake for 15-18 minutes until pale golden and crisp underneath.
Cut the cooled loaf in half and spread with sundried tomato paste. Arrange mozzarella and tomato slices over the ciabatta bread base with the basil leaves. Season with salt and ground black pepper.
Sandwich together with the top of the ciabatta loaf and tie with string. Wrap in greaseproof paper until needed. Slice into four sandwiches, cutting through the string.
Print Recipe
www.bakingmad.com/
Did you make this recipe?
Share your creations by tagging @livegreenandgood on Instagram with the hashtag #livegreenandgood