Tomato and Fig Tarts
Serves: 12
Ready in: 30 to 60 mins
Cost Cutting Eco Friendly Freezes Well
Serve these tarts with rocket as a starter, take them on a picnic or bulk out with a gratin dauphinoise and freshly cooked green beans for a main - they're so versatile!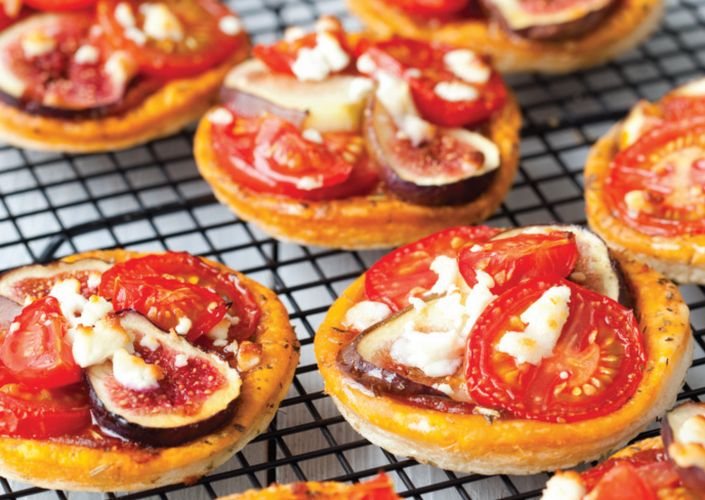 Ingredients:
250g ready-made puff pastry
1 tbsp dried mixed herbs
225g British vine-ripened cocktail tomatoes
12 British cherry tomatoes
5 fresh figs
140g vegetarian goat's cheese, crumbled
3 tbsp vegetarian red pesto sauce
2 tbsp runny honey
method:
Sprinkle the herbs over the pastry and then roll out thinly to a thickness of ½ cm (¼ in).
Cut the pastry into 9cm (3½ in) rounds. Arrange the pastry circles on a baking tray lined with non-stick baking paper and prick each circle at regular intervals with a fork.
Chill the pastry for about 20 minutes. Next, preheat your oven to 220C/425F/Gas 8.
Slice the cocktail tomatoes and figs and halve the cherry tomatoes. Spread a little pesto over each pastry circle. Arrange the sliced tomatoes and figs on top. Top each tart with two cherry tomato halves and crumbled goat's cheese. Drizzle each tart with a little honey.
Bake in the oven for 12-14 minutes. Cool on a wire rack for five minutes before serving.
Print Recipe
www.britishtomatoes.co.uk
Did you make this recipe?
Share your creations by tagging @livegreenandgood on Instagram with the hashtag #livegreenandgood