Toasted Almond and Parsnip Soup
Serves: 4
Ready in: 15 to 30 mins
Cost Cutting Eco Friendly Freezes Well Gluten Free‏ Quick Make Vegan Friendly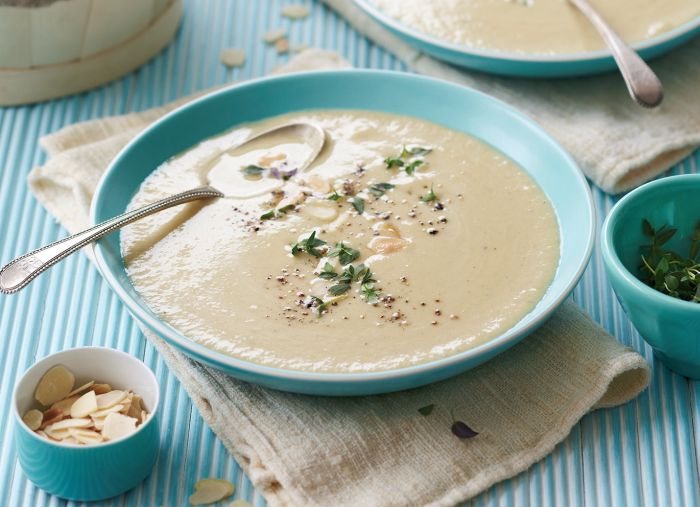 Ingredients:
400g parsnips, peeled and chopped
100g shallots, roughly chopped
1 celery stick, roughly chopped
3 garlic cloves
3 sprigs of thyme, leaves removed
zest of 1 orange
1 tsp ground cumin
2 tbsp ground almonds
1 tbsp rapeseed oil
500ml gluten-free vegan vegetable stock
400ml Provamel Almond Unsweetened drink
35g toasted flaked almonds
salt and pepper
handful of fresh thyme leaves
method:
Heat the rapeseed oil and sauté the shallots, garlic, orange zest, celery, thyme and cumin for 4-5 minutes. Add the parsnips and continue cooking for a further two minutes before adding the vegetable stock and ground almonds.
Cover and allow to cook over a low heat for 20 mins or until the parsnips have softened Add the Provamel Almond Unsweetened and allow to heat through for a couple of minutes before using a blender to smooth the mixture. Season to taste. Sprinkle over the toasted flaked almonds and fresh thyme leaves, to serve.
Print Recipe
www.provamel.co.uk
Did you make this recipe?
Share your creations by tagging @livegreenandgood on Instagram with the hashtag #livegreenandgood