Sweetcorn, Turmeric and Chickpea Fritters
Serves: 4
Ready in: 15 to 30 mins
Whatever the occasion, these simple sweetcorn fritters make for a brilliant addition to your late summer feast.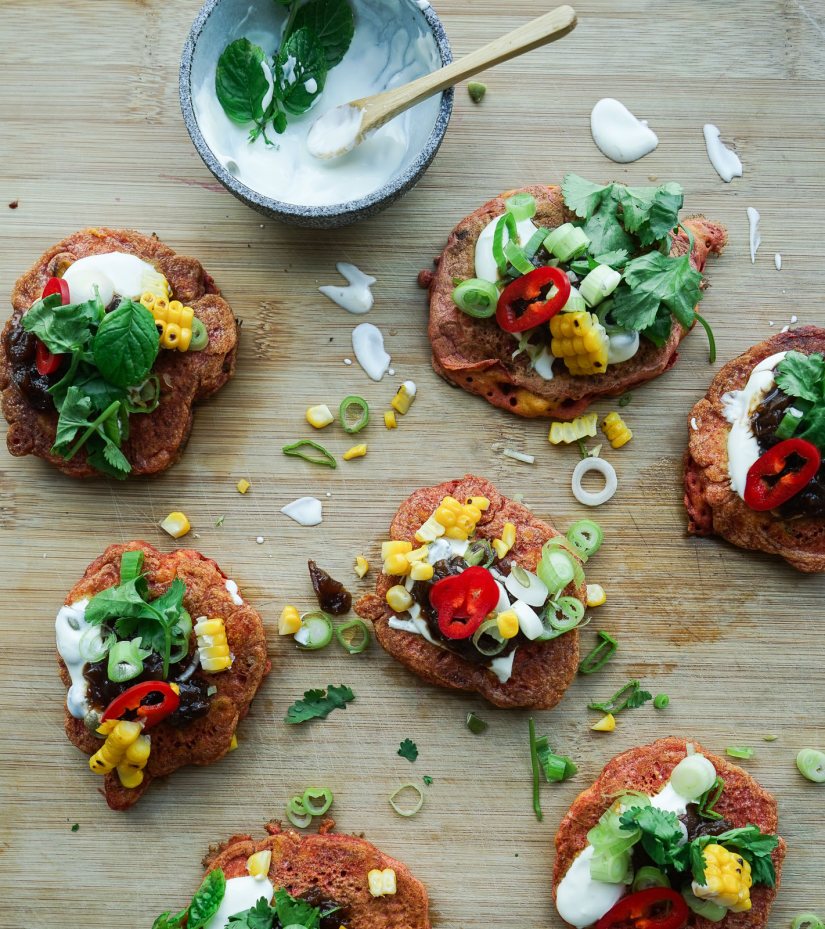 Ingredients:
For the fritters:
olive oil, for frying
60g chickpea (gram) flour
½ tsp bicarbonate of soda
a pinch of salt
1 tsp turmeric
1 tsp apple cider vinegar
120ml water
120g frozen sweetcorn

For the topping:
3 tbsp chutney
a dollop of plant yoghurt (oat, coconut, soy)
30g fresh coriander
1 spring onion, sliced
fresh chilli slices
method:
To make the fritters, place all of the fritter ingredients into a bowl and mix well to form a batter. Heat a medium, non-stick frying pan over a medium heat and add the olive oil. Pour in the batter and tilt the pan to spread the mixture, or alternatively make smaller fritters. After about five minutes, once you see bubbles on the surface, flip the fritters and cook for another couple of minutes. Once the fritters are done, plate them and leave to cool.
Dollop some plant yoghurt on top, your favourite chutney, sprigs of fresh coriander, sliced chilli and sprinkles of spring onion. This is such a great pre-dinner nibble enjoyed with some lovely, refreshing drinks.
Print Recipe
www.bettinaskitchen.com/
Did you make this recipe?
Share your creations by tagging @livegreenandgood on Instagram with the hashtag #livegreenandgood